A Twitch Overlay for Everyone
Find the best Stream Overlay and get started in no time! Works best with Twitch, YouTube, Streamlabs, OBS Studio, and StreamElements
To Our Best Offers
A Twitch Overlay for Everyone
Find the best Stream Overlay and get started in no time! Works best with Twitch, YouTube, Streamlabs, OBS Studio, and StreamElements
To Our Best Offers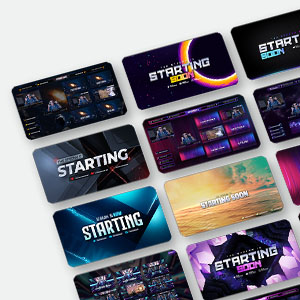 Our most popular twitch Overlays and stream Overlay Templates
The best and most popular twitch overlay bundles you'll find on the market.
Our Newest Twitch Overlays, Stream Panels and other Products
Check out all the new stuff we got for you. Each Stream Overlay and Twitch Overlay is crafted to look unique and fresh.
Twitch Panels deliver precise information to your viewership
High quality twitch profile panels deliver every information like schedule, About me and Donation with style.
The latest streaming news, guides and equipment
Never miss out on anything, visit our Blog section for the latest news, guides and equipment regarding Streaming.
Twitch overlays, twitch panels, Free stream overlays, and sub badges for your stream.
Every streamer needs a twitch overlay, stream alerts, and twitch panels. Whether Twitch, YouTube gaming, or Facebook gaming, every streamer should have an overlay.
Boosting your audience while playing your favorite games makes you happy? The simple standard twitch overlays for new streamers use do not often get the attention you need. If you want to stand out from the grey mass and the competition, nothing helps better than a high quality premium twitch overlay.
Viewers should be able to see at first glance what game is being played, the right twitch overlay or fancy twitch panels for your twitch stream will help immensely. We have a large selection of stream panels, animated twitch overlays and twitch facecam overlays for the most popular games, whether Overwatch, League of Legends, DotA Underlords, Call of Duty, Auto Chess, Teamfight Tactics, Hearthstone, Fortnite, Apex Legends or CS:GO, you will always find the right one. With a well-built stream overlay, fresh twitch panels or a nice webcam overlay you directly improve the quality of your stream and create a suitable atmosphere for your viewers.
If you want to know the perfect dimensions for your panels, check out our Twitch Panels Size Guide. In the best case all your stream elements fit together, so it makes sense to get all of them from one source or at least select similar ones. Whether you're battling through the darkness in certain games like Dark Souls, Elden Ring, Sekiro or building the most amazing things in a colorful Minecraft world. Our streaming overlays, premium designs and panels will not only highlight your favorite games, but will positively influence your entire stream. We offer you the best twitch overlays in a bundle with our high quality and unique Stream Packages.
Our animated twitch overlays are versatile and can be used on all common streaming platforms like Twitch, YouTube gaming and Facebook Gaming. With the common broadcast software like OBS (Open Broadcaster Software) and Streamlabs and StreamElements our different premium twitch overlays can be easily integrated. The three biggest streaming platforms for gaming are Twitch, YouTube, and Facebook. The three biggest tech companies in the world (Google, Amazon and Facebook) are in a race in the billion-dollar game streaming industry.
Twitch is one of the world's largest streaming platforms with a monthly average of 1 to 2 million viewers in the gaming sector alone. The title of Top Streaming Platform thus clearly goes to Twitch. Twitch also offers a huge community of small and large streamers and numerous advertising partners who are also good sponsors.
YouTube is the video giant that belongs to the Google Group. Originally intended for the upload of Videos, YouTube entered the live streaming business a few years ago and is one of the big players in the game streaming sector.
Facebook as a social platform has now also discovered the value of streamers, game streaming and streaming itself and, after the closure of Microsoft's own Streaming Services Mixer, has brought Microsoft itself on board as a partner. Facebook makes it very easy for you to stream for family and friends.
This is what Overlay Forge does for you
Overlayforge.com is a website for streamers who want to start their streaming career and/or improve their existing stream visually and make it more professional. Here you will find everything you need from Twitch Overlay Templates, Facecam Overlays and Panels to Stream Alerts, Twitch Sub Badges and cute Twitch Overlays, all thematically, color and visually coordinated. A thematically consistent streaming site gives a professional impression and great and funny emotes and sub badges reward viewers and subscribers for their support and activity in the community.
What are twitch overlays?
Twitch overlays or stream overlays are video files or images. They include everything that personalizes, embellishes, or improves the design of your twitch stream. This includes overlays for your webcam, special game overlays (e.g. for Fortnite, Overwatch, The Division, Apex Legends or Battlefield), the logo of the streamer in the different screens, animated twitch overlays, stream alerts and for example individual designs for panels, twitch overlay templates or for your own streaming website.
Our products at a glance
Here you have a small overview of our products, twitch overlays are of course our main product but not our only one. We also offer a wide variety of other high level stream graphics: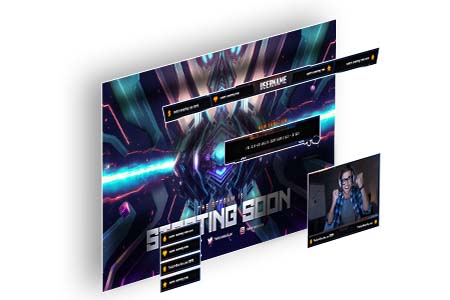 Animated Twitch Overlay templates
An animated twitch overlay, often also called stream overlay, is a graphic overlay that can be placed over the stream to turn the standard interface into a visually appealing viewer experience.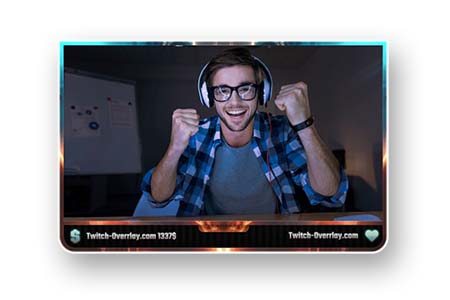 Facecam Overlays
Facecam Overlays, often referred to as Webcam Overlays, are changes and embellishments such as cool frames and animated overlays that are then placed over your webcam broadcast. This way the stream looks more professional and stands out from the gray mass. Together with the twitch overlay, this is our core product.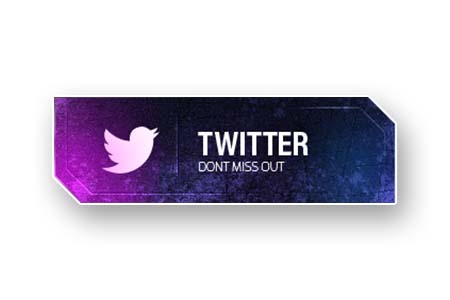 Twitch Panels
Panels is the name of the different buttons that can be found for example on Twitch under the stream. These can then link to various websites such as social media and YouTube and provide a quick overview of the streamer's Internet presence. Twitch panels look particularly good if they fit into the overall concept of the stream.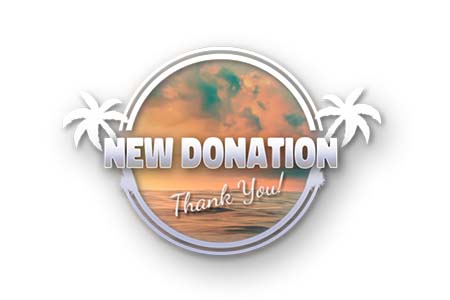 Stream Alerts
Stream Alerts are audio and visual messages in the stream overlay that can display subscribers, followers, and donations, for example. Twitch Alerts are ideally suited to reward viewers and followers of the stream for their interest.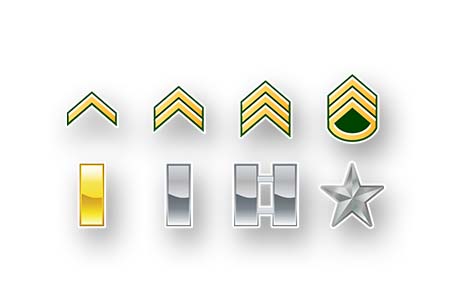 Sub Badges
Sub Badges are small icons that channel subscribers receive as a reward for their loyalty and support. They are then displayed in the chat in front of the viewer's name. The badges change with increasing subscription duration and show how long the viewer has supported the streamer.
Most of our products are animated and offer the viewers of the stream a perfect eye-catcher. The better the animation twitch overlays are, the more professional the animated twitch overlay or stream overlay looks afterwards.
Our premium design packs
We have made it our business to produce premium designs for streamers in all areas. Overlayforge.com offers detailed stream art and awesome stream overlay package features. Whether it is a gaming twitch overlay or a stream overlay for Just Chatting, in our store everyone will find a suitable stream alert or stream screen. Simple and static as well as complex animated stream graphics to enhance your stream channel. At the same time, we also offer you bundled stream overlays which contain everything you need to get started right away. We know that starting your streaming career can be daunting, which is why we offer simple and free premium designs that provide you with a basic framework and twitch overlay for the start. You can then with time make your twitch overlay more unique and individual, will give the viewer an idea of what they're in store for when tuning into YOUR stream!
We attach great importance to premium designs with a consistent theme and offer bundles and packages that provides you with everything you need to start streaming on twitch, YouTube gaming and Facebook gaming. Our premium designs are animated with attention to detail and give your stream a professional look. For us it is important to support you with your streaming style in the best possible way. That is why we offer different types of designs with which you can stream any kind of content.
Sometimes our free Twitch Overlays are also branded with a Twitch-Overlay.com branding. With this, small streamers offer a cheap sponsoring alternative and a great, free stream design. Among our free downloads, you will find a twitch overlay for every need. Besides gaming you will also find popular areas like Just Chatting let us be your source for free premium twitch panels and designs.
Free designs and free twitch panels
So that everyone can enjoy a free start into the streaming world with premium design and so that even the smallest streamer can enjoy improving the view for his viewers, you will find a free resources area on our site. There we offer you free twitch overlays, free profile panels and older stream designs for your stream for free download. If you want to know more about Twitch Panels, you can also visit our Twitch Panels size guide.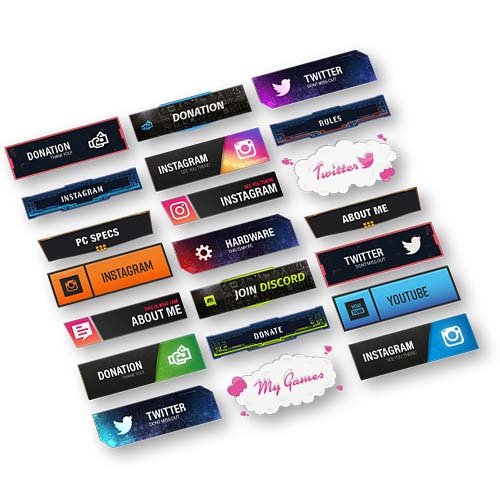 Stream screens included in all of our twitch overlay templates
Stream Screens are graphics that can be displayed during the stream. While your stream is in the starting blocks, you can, for example, show an animated starting screen, which will heat up your audience and arouse burning anticipation on Twitch, YouTube, and Facebook. In addition, while you are queuing up for a game in League of Legends (LoL), you can show an intermission screen that puts the game in the background and makes your face cam bigger and the chat will also be shown. If you go offline, you can show your fans a top designed offline screen to ease the disappointment.
You can easily switch between your screens with your broadcasting software lice OBS studio. All stream screens are of course in the same design, just like your webcam overlay, which makes your twitch stream look professional and keeps the viewers interested.
Customizable designs for your stream
Our top stream packages are all animated and custom twitch overlays can also be made on request. Do you want hearts on your panels? No problem. Do you want animated stream alerts with premium design, no problem. Our Stream Packages and Bundles are designed to be integrated into OBS studio, Streamlabs, StreamElements, Twitch Studio and any other streaming software.
In addition to custom designs, our Twitch Overlays offer immense freedom in how to arrange the different parts. When you purchase one of our bundles you'll get every element as a separate WebM file. This means you can move stuff around, and position it to perfectly fit your stream.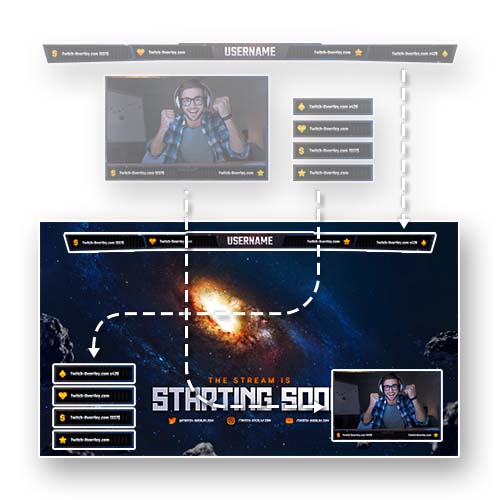 Why do I even need a twitch overlay?
Customize your stream with our top twitch overlay templates it doesn't matter if you stream on Twitch, YouTube or Facebook, free premium twitch overlays are always a good idea. Get a full stream overlay package and don't waste your time with a long design and creative process. Here are some pro points for using a Stream Overlay you should definitely know about:
Enhances the overall visual appeal of the stream, making it more engaging for viewers.
Display important information such as social media accounts, sponsors, and donation links.
Showcase your brand or personality.
Adds interactive elements to the stream, such as polls or chat integrations.
Display in-game information, such as player stats or map information.
Promote other content such as upcoming events or stream schedule
Increase the professional look of your stream.
Helps to increase the reach and visibility of your content.
Helps to attract new viewers and retain existing ones.
What should a good stream overlay include?
A good stream overlay is an essential element for any streamer, as it helps to enhance the viewing experience for their audience and make the stream look professional. A good stream overlay should be animated and should include several key elements:
Webcam Overlay – an animated border around the webcam, must have for a decent twitch overlay.
Streamlabels – Small overlay graphics to display donations, important links and info, new followers or social media channels.
Stream Screens – Every twitch overlay bundle should include at least a Starting and an Ending Screen.
Screen transition – A stinger transition with simple yet defined animations is part of any modern stream overlay package.
Twitch alerts – Included in every twitch overlay. We also deliver a very easy setup guide for streamlabs.
A Twitch overlay can vary in style and design, but personalizing it with the streamer's name and theme of the stream is key. We at Twitch-Overlay.com offer fully customizable options, including Twitch Panels, Twitch Banners, Stream Screens and Offline Graphics. Our extensive collection of animated stream overlays will help you create an engaging experience that keeps your viewers entertained.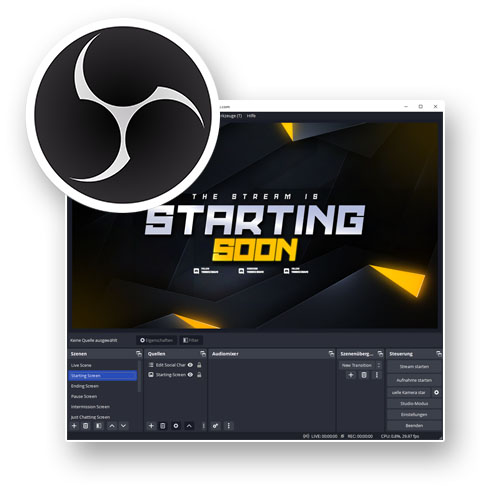 Using OBS Studio, twitch studio and other broadcasting software as your streaming software
OBS or Open Broadcaster Software is a free program that allows streamers and content creators to set up their stream easily and quickly for twitch, YouTube and Facebook. OBS can be easily downloaded from obsproject.com. Once downloaded, the streamer can for example log in with his twitch account and start streaming directly. The best alternative to OBS is a Streamlabs modified version of OBS – Streamlabs OBS or short SLOBS. Streamlabs OBS comes with some advantages in the luggage, for example it is much more modern than OBS Studio. Streamlabs OBS offers its users an extensive library of twitch overlays, applications and extensions that can be installed and used. The import of any stream overlay package is also very easy, among other things we offer an. overlay file for SLOBS in our twitch overlays. The. overlay file can be easily imported into Streamlabs OBS and does the work of setting it up for you. In the blink of an eye the individual scenes are created, and all parts of the twitch overlay are in the right place. Software tools and broadcast software like OBS Studio are very important and give professional streamers full control over their stream graphics.
Streamlabs and streamelements are important partners
Streamlabs and StreamElements should be familiar to every streamer. Both providers offer plugins and tools that make the streamer everyday life easier. Streamlabs has become well-known by its Stream Alert function. Stream Alerts are displayed in the stream with pictures or videos and are mostly animated. A stream alert shows for example when someone makes a donation or subscribes to a channel. Meanwhile Streamlabs is not only specialized in stream alerts but offers its customers much more features like premium stream overlay templates and designs, including our stream overlays, streaming websites, widgets, plugins and much more. Especially the close cooperation with OBS and the resulting SLOBS stands out. This allows streamers to install and use new stream overlay templates with just one click. Streamelemets takes over a similar role but focuses more on other freedoms such as channel growth, marketing for your channel e.g. merchandise, but also stream designs and overlays are available on Streamelements. Also, at StreamElements there are useful widgets and plugins around streaming, compared to Streamlabs OBS, StreamElements is more suitable for managing your stream.