What is an animated Twitch overlay?
Animated Twitch Overlays or animated Stream Overlays are stream overlays which are not only displayed as a still image but also have some form of movement. This type of animated Twitch overlay template is much more challenging to create and much more difficult to design yourself for people with little experience in the field. Animated Twitch Overlays are more popular than "normal" Twitch Overlays. Since something is constantly moving in and on the Animated Stream Overlays, they are much more popular with both streamers and viewers. Breaks and stream start / end overlays, the animated Twitch Alerts and the Twitch animated Facecam are just a few examples of easily animatable overlays. They give your stream that certain something and viewers may be more likely to get stuck in your stream if they like your stream design. An animated Twitch Overlay also means for your viewer and your community (streaming community) that it is important to the streamer what kind of impression he makes. As already said, animated stream overlays are the more professional and sophisticated solution for your stream.
Animated Twitch overlays are actually like normal stream overlays for Twitch, Youtube or Facebook, they only differ in that they contain moving or animated elements. Almost all of our Twitch overlays are animated and are intended to generate more attention and enable a more professional appearance. Most streamers now use at least an animated facecam which e.g. can shine with small light effects and thus focus the attention of the audience on the Twitch animated facecam or Twitch animated webcam of the streamer.
Why do I need an animated Twitch overlay?
Animated Twitch Overlays or Animated Stream Overlays are always a real eye-catcher. They make your viewers and your community feel good about watching your stream. They are a sign that the stream design is important to the streamer and that he wants to offer something to his existing and potential viewers. A streamer's stream overlay, animated for Twitch, is his flagship. It's usually the first thing new viewers notice and what they see. The first impression is extremely important. The first impression is crucial not only when getting to know new people, be it in everyday professional life or private space, but also in your stream. Among other things, it decides whether a new viewer gets stuck on your stream or not. The "Stream Starting" and "Stream Ending" animated stream overlays are perfect for creating a pleasant atmosphere for your viewer. Take our Animated 80s Synthwave Overlay as an example. Put a bit of 80s Synthwave on top (something DMCA free, of course) and you'll feel like you're in the video game Tron. If you then have the right Twitch animated facecam overlay, you take up the topic during your stream and you create a certain continuity. You need an animated Twitch overlay if you want to give your stream that certain something. Almost everyone now has a simple overlay and if you want to stand out among the multitude of other streamers then an animated Twitch overlay or an animated stream overlay could be just right for you. Animated stream overlays direct the attention of your viewers exactly where you want them and also offer a little entertainment value. Your once dreary stream is transformed into an action-packed rollercoaster ride of effects in no time at all.
Can I also buy animated facecams individually?
At the moment most of our animated twitch facecams are sold in streampacks, stream bundles are top design packages that give the look of your stream a complete overhaul. Our stream bundles are always tailored to a special topic or game that ranges from CS: GO to Valorant to Cyberpunk or even Fifa and Wow: Shadowlands but also topics such as the 80s or neon are taken up by us and implemented as animated stream overlays. We also offer you the opportunity to buy our animated Twitch facecams and animated webcams individually, simply look for an animated Twitch facecam in the Facecam category in our shop.
How do I make animated Twitch overlays myself?
In general, you can create simple Twitch overlays yourself if you have a little time and the right programs. There are various tutorials on this on YouTube, for example. With Animated Twitch Overlays, however, things are different. It sometimes requires programs that not every streamer has on their computer. It also takes a lot longer to create an animated Twitch overlay that looks like something. Our designers work many hours on an animated stream overlay until the overlay looks so good that we are offering it for sale on our site. For this process you need experience and a lot of attention to detail until every animation and every color harmonizes perfectly.
Like everything in our shop, you can of course also easily create animated Twitch overlays yourself, but we recommend that you have advanced knowledge of image and video editing.
All of our animated stream overlays are created with the programs: Photoshop, Illustrator and After Effects from Adobe and Blender. If you are not in the mood for expensive programs or if you don't have the money for expensive programs, we can recommend Gimp for image processing. Blender is usually sufficient for editing videos and creating other 2D and 3D graphics. Now all you need is an inspiration or a general topic and you can let your creativity run free.
What are the types of Animated Twitch Overlays?
There are many different types of Twitch Animated Overlays. This term includes all stream overlays that can be animated or moved. This includes the Twitch animated Facecam, Twitch Alerts, general stream overlays, pause overlays and start and ending overlays. Unfortunately, Twitch Sub Badges and Twitch Panels are not suitable for animation.
Can I also order custom animated Twitch overlays from you?
The animated stream overlays that we offer in our shop have been handcrafted by professional designers in many hours of work and with great attention to detail. If you can't find an Animated Twitch Overlay in our shop that you like, you can also contact us via the website. If you let us know your wishes and ideas, our designers can work out a customized Twitch overlay for you. However, this is not suitable for everyone. Because a completely individual Custom Animated Twitch Overlay is an expensive proposition. As already mentioned, our designers work many hours developing an animated stream overlay. However, if you are willing to spend the necessary change for your custom animated stream overlay design, we will provide you with a design that is perfectly tailored to your wishes and represents your new figurehead for your stream.
Are there any free animated stream overlays?
We currently don't offer any free animated Twitch overlays. Due to the many hours of work that every Animated Stream Overlay takes, we are unfortunately unable to offer any of these designs on our website for free. In the future, we may offer non-animated stream overlays. For updates and all new products, follow us on our social media channels. For example, a series of animated webcams and animated facecams for Twitch is planned that will be branded and offered free of charge. Free animated stream overlays are not planned for now.
Which animated stream overlays suit me best?
Finding out which Animated Twitch Overlay suits you best is not that easy, but of course not impossible. First you should get an overview of how much money you want to invest. Not everyone has the money to have a custom animated stream overlay made. However, this is not absolutely necessary either. Sometimes less is more, and a simple but professional Animated Stream Overlay can be better than a poorly homemade one. Then you should think about the direction in which you want to go with your design. It is very important that you choose an animated stream overlay that visually appeals to you as well as your community and viewers. If possible, you should also involve your community in the process. Because the stream should be a kind of "home" for streamers and viewers alike, where everyone can feel comfortable.
Top Animated Twitch Overlays 2020
Animated Valorant Webcam Overlay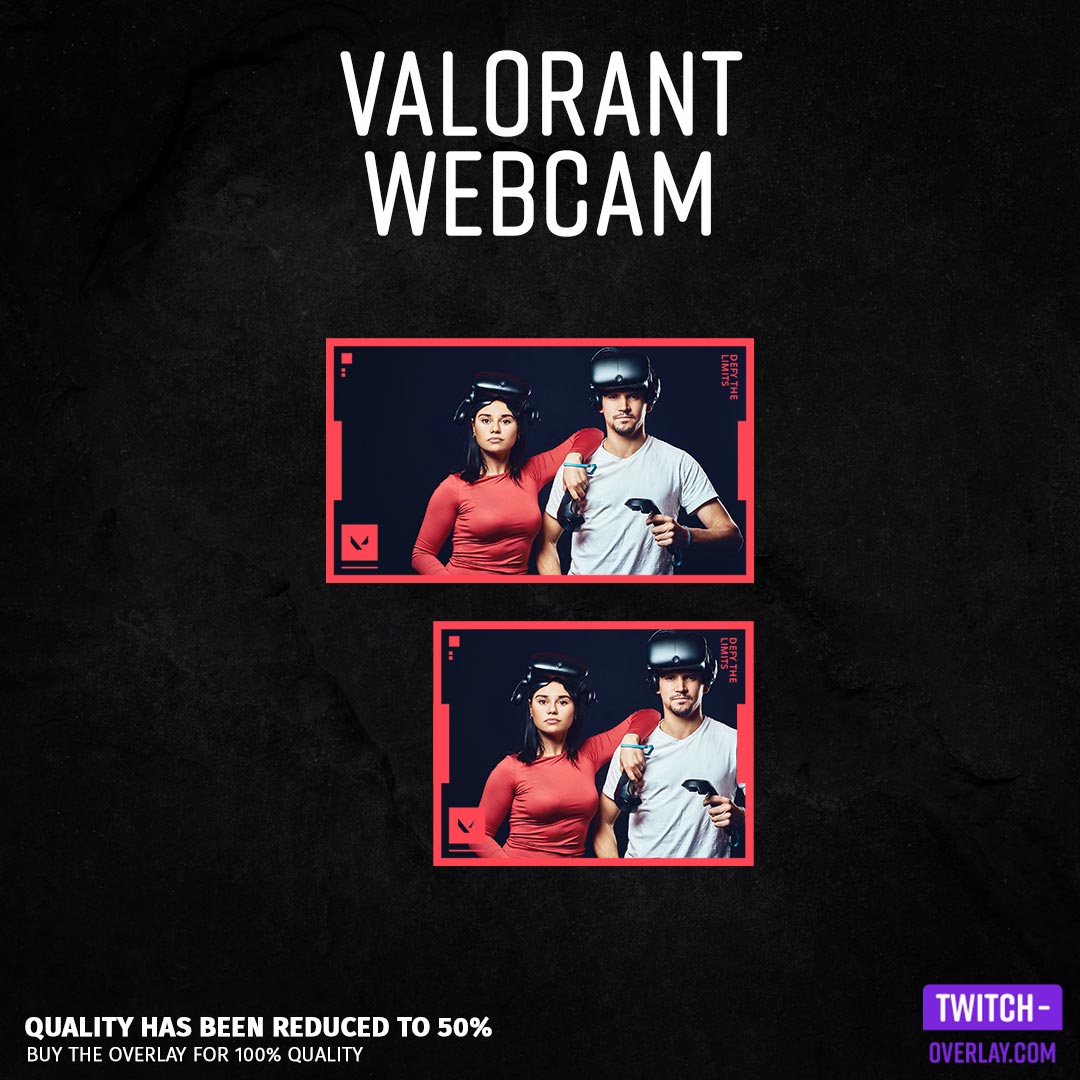 Our 5th place this year goes to the animated facecam overlay for Twitch, which is dedicated to the game Valorant. The Facecam shines with its simple design and subtle effects, it is kept in red and can also make your stream an eye-catcher as a single piece. If you want to combine this animated webcam overlay with other elements, we recommend simple designs in red, purple and black.
Nebula Galaxy Stream Bundle
The fourth place goes to the infinite expanses of the universe. Our Stream Overlay Bundle Nebular Galaxy convinces with a trip into space. Like place number 5, Nebular Galaxy is kept very simple and only the stream screens offer a great view of the most remote expanses of space. The Nebular Galaxy Stream bundle provides you with all the elements you need to redesign your stream. If you combine other elements with this bundle you should pay attention to a similar color scheme.
Animated 80's Synthwave Stream Bundle
Third place goes back to the 80s. Our animated 80s Synthwave Bundle offers everything to blow you back into the hot 80s. This overlay, animated for Twitch, works best on a VHS cassette on the tube screen … All jokes aside, all of our overlays are of course available as digital download and in Full HD. Since this eye-catcher is also a bundle, everything you need for your stream is included, from alerts to offline screens, nothing is left to be desired.
Animated 80's retro facecam overlay
The 2nd place of this year's most popular animated overlays for Twitch goes to our standalone animated facecam from the 80s. With a similar design to the Synthwave Bundle, this overlay also convinces with a solid 80s touch and subtle effects that will certainly draw the attention of your viewers to the facecam. The color of the facecam is based on the shrill 80s and harmonizes very well with other blue and purple designs.
Neon Lights Stream Bundle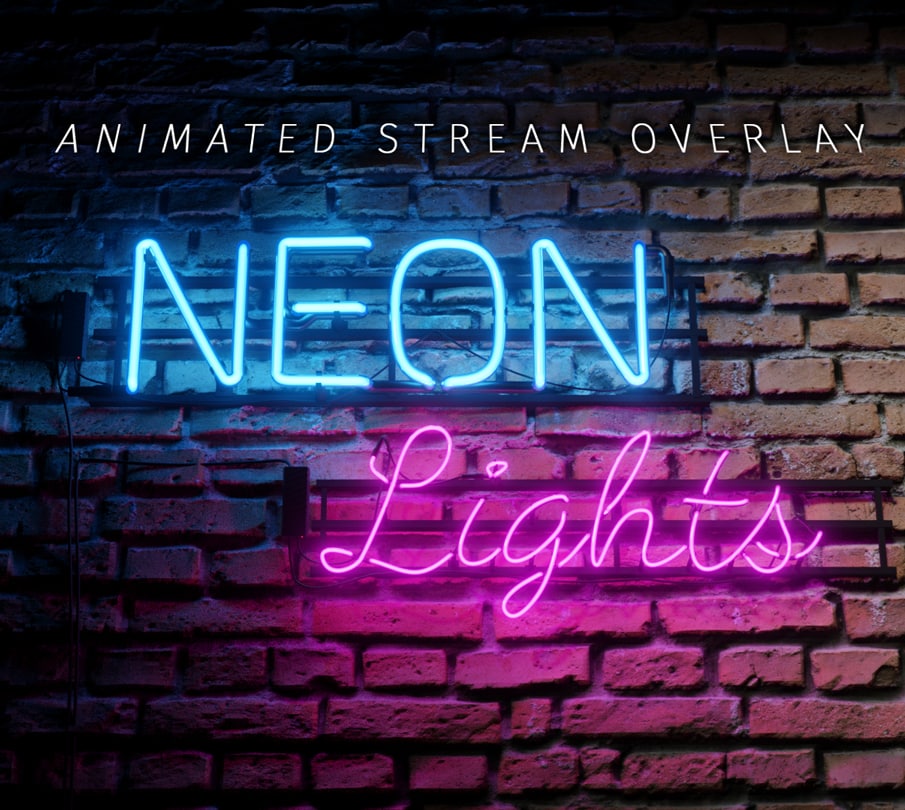 Our highlight in 2020 and thus first place goes to the Neon Lights Stream Bundle. The design is based on a typical comedy club scene and should convince with its realism. The colors blue and pink are retro and based on the 80s, which are currently very trendy. The neon bundle was produced almost entirely with Blender and the alerts are also quite tough. As a bundle, you can enjoy top designed alerts, stream overlays, stream screens (offline, pause, starting, ending), an intermission screen and an extra transition for your content after purchasing.
Our conclusion on Animated Twitch Overlays!
An animated stream overlay is the best standard one can have with a stream overlay. It offers that certain level of professionalism and clean demeanor that viewers expect from a streamer. All of our animated stream overlays are clearly structured and have a well thought-out color scheme and appropriate animations. The Animated Twitch Overlay Bundles in our shop are thematically and appropriately coordinated and give every streamer the necessary overlays for his or her stream. With our animated Twitch Overlays, nothing stands in the way of your streaming career.