Almost every streamer needs a Twitch overlay template today.
Twitch overlay templates are a very important part of modern streams. Without a nice stream overlay template, you won't get very far today. Be it to impress your viewers or just to make your channel more attractive. Twitch Overlay Templates are sophisticated, animated or non-animated graphics that are placed over the stream in order to embellish and refine the visible surface. If your stream deals with In Real Life (IRL) or gaming, a Stream Overlay Template is just right for you, but you can also use it for any other area.
Templates are actually called stencils or blanks. So theoretically, all of our products can be called templates. However, bundles (packages of several products) are also referred to as overlay templates. For example a bundle of Twitch Facecam Overlay, Twitch Panels, Twitch Alerts, Pause Overlay, Offline Overlay and Twitch Sub Badges, all of which are thematically compatible.
With a coherent Twitch overlay template you create a professional impression for your viewers and community members. Potential new viewers are more likely to get stuck in your stream if they feel that the streamer shows a certain level of professionalism. Viewers can identify themselves better with a stream if a stream has a uniform topic and they address this topic themselves. However, the content of the stream is still a top priority. In addition, the personality of the streamer plays an important role for potential viewers. And it is precisely this personality that is underlined by the look of the stream and the topic.
At Twitch-Overlay.com we have an overlay template ready for all purposes. The stream templates are created for a screen format of 16: 9. The most common resolution is 1920×1080, which corresponds to a screen with 1080p or full HD resolution.
What types of Twitch overlay templates are there?
There are many different types of Twitch Stream Overlay Templates. We offer various products in our shop, from individual products, which can also be referred to as stream overlay templates, to thematically matching bundles or packages. Our most popular bundles are whole stream bundles that contain everything a new streamer needs. But we also have Stream Screen Bundles, Stream Alert Bundles and Webcam Bundles for you. Animated thematic stream overlay templates are very popular. Most streamers have either a uniform and thematic stream overlay template design that matches the game the streamer is playing or a design that generally underlines the atmosphere of the stream and generally makes a good impression.
How do I set up my Twitch Overlay Template correctly?
Not every template is immediately embedded in your stream. But most of our stream overlay templates can be set up with all common streaming programs, including OBS, Streamlabs and Xsplit. Badges, for example, are implemented directly on Twitch.
Our Stream Overlay Templates are specially made for StreamlabsOBS. That is why we recommend our customers to use StreamlabsOBS (SLOBS for short). With SLOBS, setting up your Twitch Overlay Templates is child's play. Simply search for the attached .overlay file in your downloaded overlay files and import it into the SLOBS settings. After importing, all relevant scenes have already been created for you and you can start immediately. Of course, all individual stream overlay template parts are also included with your download and you can put your overlay together as you want. You can also easily integrate the stream alerts for your stream overlay template into your stream with Streamlabs.
Just follow the link in the ReadMe file and create a new widget theme on Streamlabs that will act as a holder for the alerts. Activate the widget theme and test your alerts. If everything works, you can start your stream and get started.
How can I create a stream overlay template myself?
Of course, you can also design your own templates. Adobe Photoshop is a very good tool for that purpose. If you want it to be very spicy and maybe you don't have access to Photoshop, you can also use Paint or Gimp. You can also find all kinds of tutorials on YouTube that will surely help you in this area. However, our designs are created by competent designers and graphic artists and with just the right amount of attention to detail and professionalism, our stream overlay templates are the ideal products, regardless of whether you have just started your streaming, you are doing a general overhaul in your stream or simply thematically want to reorient.
If you want to create your own stream overlay template, you first need the right tools. We like to use Photoshop, Illustrator and After Effects from Adobe. We mostly use blenders for our 3D overlay templates. If you do not have access to the expensive Adobe cloud programs, you can find numerous free and cheap alternatives on the Internet. Gimp, for example, is an excellent replacement for Photoshop.
If you have already gained experience with Adobe programs, you can start right away. If not, you should first watch some tutorials on YouTube. Gathering inspiration doesn't hurt either. If you know what you want to do, you can always start. For our stream overlays we use a resolution of 1920×1080, which is 16: 9 and is also called full HD.
Are there free Twitch Overlay Templates?
We sometimes offer free Twitch overlay templates in special promotions. The free overlay templates are often bundled assets that allow you to start your stream directly without having to do a lot of other work. Thematic bundles require significantly more work and time and our animated stream overlay templates are color and thematically coordinated. You can find out everything about our latest products and free templates on our social media channels such as Instagram.
On special occasions we are happy to provide you with our Animated Twitch Overlay Templates free of charge. If there are no free stream overlay templates available at the moment, follow us on Instagram or Twitter and you will definitely miss it.
Do you also make custom Twitch overlay templates?
There are currently no offers on our website for completely individualized Twitch Overlay Templates. The time required and the work on custom designs is a lot higher than with the products available in our shop. But if you like our work, you really want an individualized design and you have the necessary change, contact us via our website and we will then get in touch with you. It is best to think about what you would like to have in advance. So which stream overlay templates you want, whether they should be thematically and color-coordinated and, as a result, which colors and which theme you would like to have.
Which stream overlay templates suit me best?
When it comes to which Stream Overlay Templates are best for you, there are many factors that can influence that. The most important factor is of course what you like best as a streamer. Whether you are more of someone who wants simple and simple stream overlay templates or whether you are looking for something conspicuous and therefore elaborate is just as relevant as the question of whether you want individual stream overlay templates or whether all of your templates are colored and themed should be coordinated. If you are just starting to stream, all of these decisions can be made by yourself. However, you should always get a second or even a third opinion from friends or acquaintances. Because it's not only important that you like the design, but it's also important that your future community likes it and viewers get stuck on your streams for an additional reason and happily keep watching you stream. However, if you've been a streamer for a while and just want a visual and thematic overhaul, then you should definitely include your existing community in the process. With that you kill several birds with one stone. You change your stream overlay templates, your viewers know about the process and maybe even support you (be it monetarily or with good ideas and tips) and – most importantly – your viewers feel that they belong to the streamer as part of your community, if he includes them in such a relevant process.
The best Twitch Overlay Templates 2020
Here our employees have listed the best Twitch Overlay Templates for you. Of course, this list is purely objective and tastes are known to differ, but maybe you will find the following stream overlay templates as great as we do.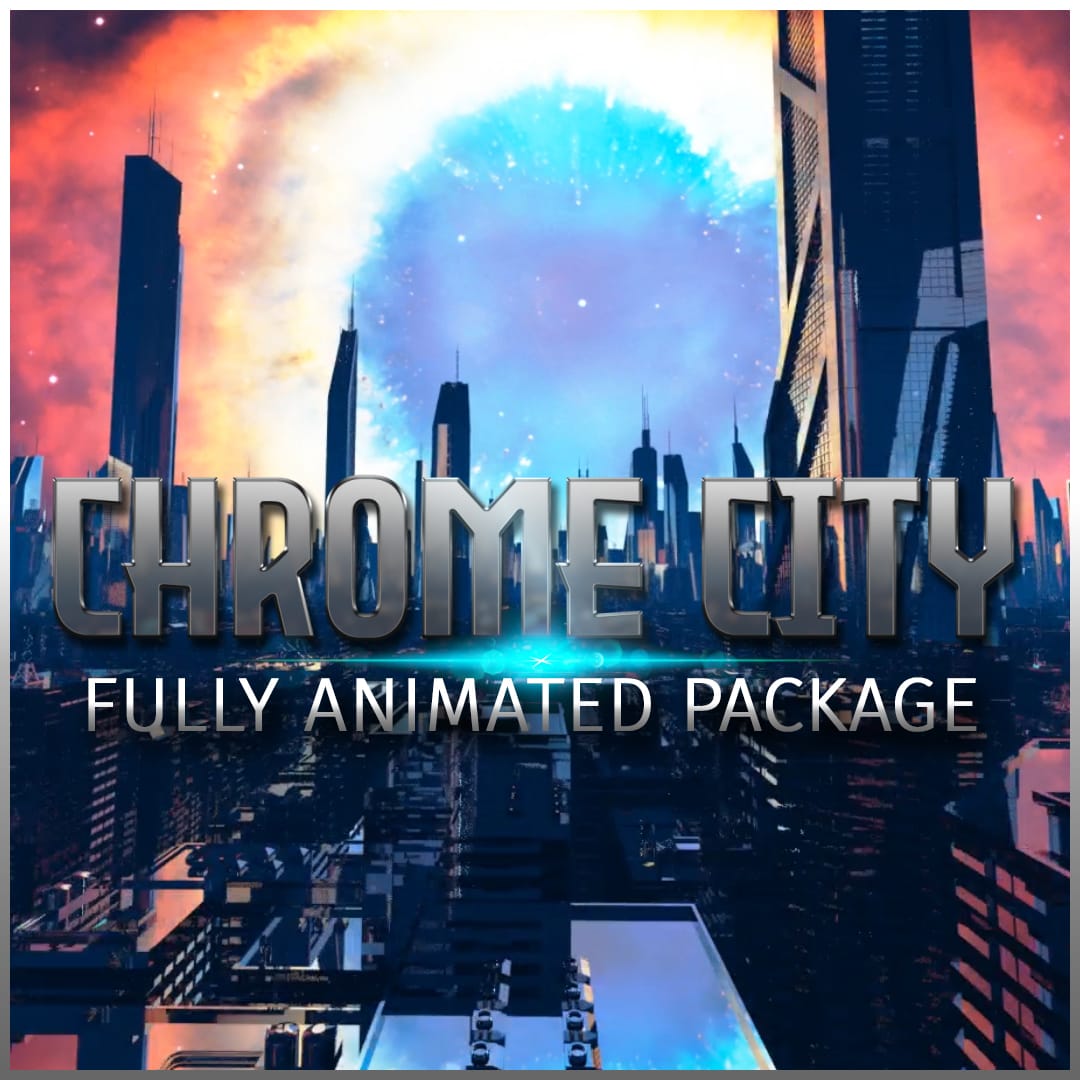 In fifth place this year you will find our elaborate Chrome City Stream Overlay Template. The Chrome City background itself was realized with Blender. The other graphics were created using Photoshop and After Effects. The design of the city took us some time until we were completely satisfied. The great reflections with the colorful background are a real highlight in our stream template library. For fans of Chrome and futuristic scenes, the Chrome City Overlay is just the thing.
Fourth place went to our Electric Nova Overlay Template. The Electric Nova Stream Template is one of our newest templates and is also very popular. With its beautiful electrical animations and small lightning bolts, it is unique in our stream template library. The lightning bolts and effects animated in comic style are currently very popular and a real eye-catcher for every type of stream.
Third place this year is taken by our Nebula Galaxy Stream Template. Lively colors and an exceptionally good parallax effect make the Twitch Overlay Template a great choice for your gaming or IRL stream. The Galaxy Nebula in the background and a number of moving stars in the foreground create a very strong 3D effect that is second to none.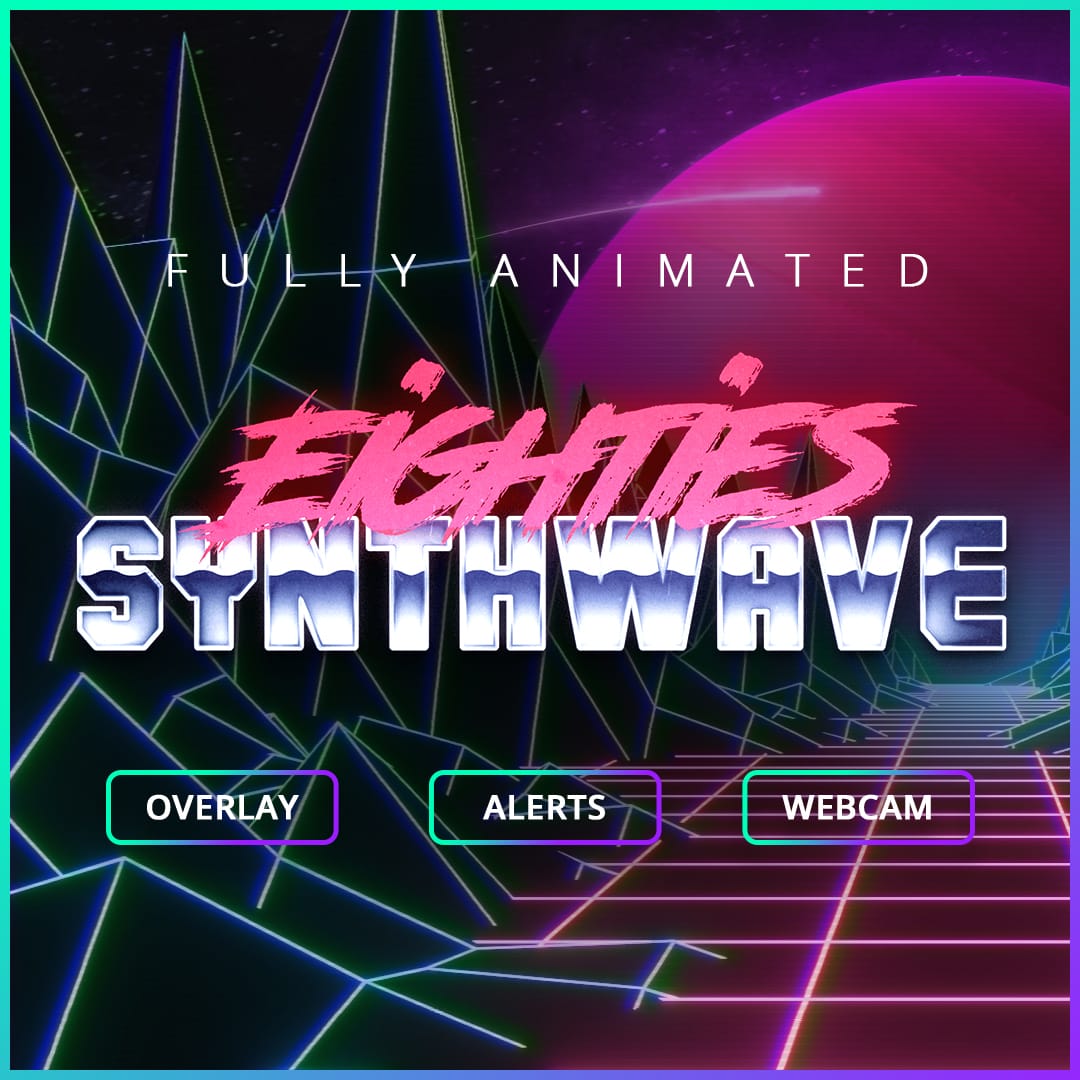 In second place is a very popular overlay template, one that we produced with a lot of effort using Blender, Photoshop and After Effects, our 80s Synthwave Overlay Template Bundle. The 80s Synthwave Stream Template is one of our most popular Twitch Overlay Templates. The 80s theme is generally very popular with our customers and that's why we spared no effort to create this overlay template. Many people fondly remember the warm charm of the eighties, with its flickering lights, huge tube monitors, groovy disco music and VHS tapes. We tried to bring the best of the 80s together in our 80s Synthwave Twitch Overlay Template and we think we did a pretty good job.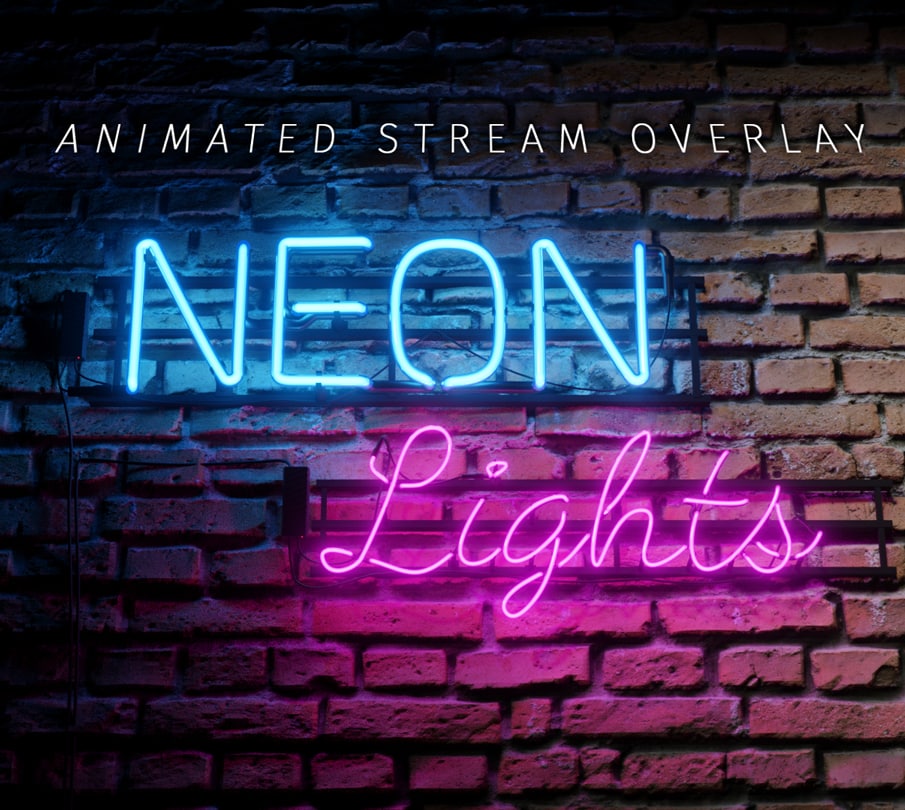 The very best stream overlay template this year is the Neon Lights Bundle. The Neon Lights Template was lovingly created by us in Blender. Each tube is custom-made and cost us a lot of time. The result speaks for itself, however. The realistic look of the brick wall together with the striking, lively colors make for a really great sight and are suitable for every stream.
If you're a new streamer, you should definitely think about getting yourself a ready-made Twitch overlay template. We at Twitch-Overlay.com have a great selection for you in the shop and you can also use our top 5 stream templates as a guide. If you can, you can of course make your own overlay template. Make sure, however, that it doesn't look too amateurish. Some streamers can do without stream overlay templates at all, you could try that if you don't feel like spending money. So if you are just starting to stream or you are thinking of becoming a streamer and founding your own online Twitch or Youtube community, purchasing our Twitch Overlay Template Bundles is a perfect basis and a starter package for your career. Our thematically uniform and professionally designed Stream Overlay Templates transform your stream into a wonderful place and a "home" for your community. The bundles in our shop are built in such a way that you are equipped with all the necessary templates and can start right away. You simply choose one of our most popular Twitch overlay templates or what you like best and nothing stands in the way of your visually appealing streaming.