Twitch Panels Introduction
Twitch Panels or Streaming Panels are small pictures used by streamers to spread information about themselfes and their stream. The Twitch Panels are displayed below the respective stream and make it possible to present the information about the streamer and his stream in a stylish, clear and attention attracting way. These days our Twitch Panels include at least 15 different panels and a seperate empty panel for your own stamps and texts.
We craft our Stream Panels with state oft he art software like Photoshop and Illustrator. They are in PNG file format and have a transparent background, which makes them perfect to use within your Twitch-Channel or YouTube. If you are looking for Webcam Overlays, Twitch Overlay Templates or Animated Twitch Overlays, this is the wrong page for you.
What are Twitch Panels?
Twitch Panels are design graphics that can be placed under your Twitch Stream to divide your personal area into sections and to create a clear interface for your visitors. We typically offer 14 panels in our packs. This includes:
A Twitch donation panel that you can easily link to your donation provider e.g. PayPal.

A schedule panel under which you can list your streaming schedule.

Specs, under which your hardware or software specs should be.

A YouTube panel that should point to your YouTube channel.

The Twitter panel to direct your followers to your Twitter page.

A Facebook panel with which your viewer can e.g. follow directly on Facebook.

About Me, there you should briefly describe yourself, who you are and what are you streaming.

Instagram, this panel should link to your Instagram account.

Top Donations the section where your all time top donations are listed.

Rules, you can list the rules for the chat and stream here.

Subscribe, with this panel someone can subscribe to your stream immediately.

My Games, where you can list the games that can be seen in your stream.

Discord, do you have your own discord? Great here you can provide it for your viewer.

Follow, give your viewers the opportunity to follow you directly.
If that is not enough for you or if you are looking for other panels with different icons or fonts then simply write us a short request and we will definitely find a way to design your custom panel.
What makes Twitch Panels so important?
With our Twitch Panels you have the opportunity to stand out from the gray crowd. Use them to highlight your interests, your schedule and all the other important aspects of you
Twitch Panels make a Stream unique and add a very high factor of recognizability to he streamers channel.
Twitch Panels give the Viewer the possibility to specifically probe for information about the streamer and the stream.
Stream Panels add a professional touch to a channel and lend it credibility it deserves.
This is how you use our Stream Panels:
The very first thing that you need is a Twitch Account. You should already have one or you probably would not be here. When you log in to the Twitch.tv website, you should be able to access your channel via a click onto your profile picture in the top right corner oft he page this is basically the same procedure you need to undertake to implement your Twitch Sub Badges. Click your profile picture and then click onto 'Channel'to get to your channel.
If you scroll down a little you'll see the section where your Twitch Panel options are located. If you don't have any panels yet, the area should be empty and is waiting for you to fill it with fresh panels and information about yourself and your stream.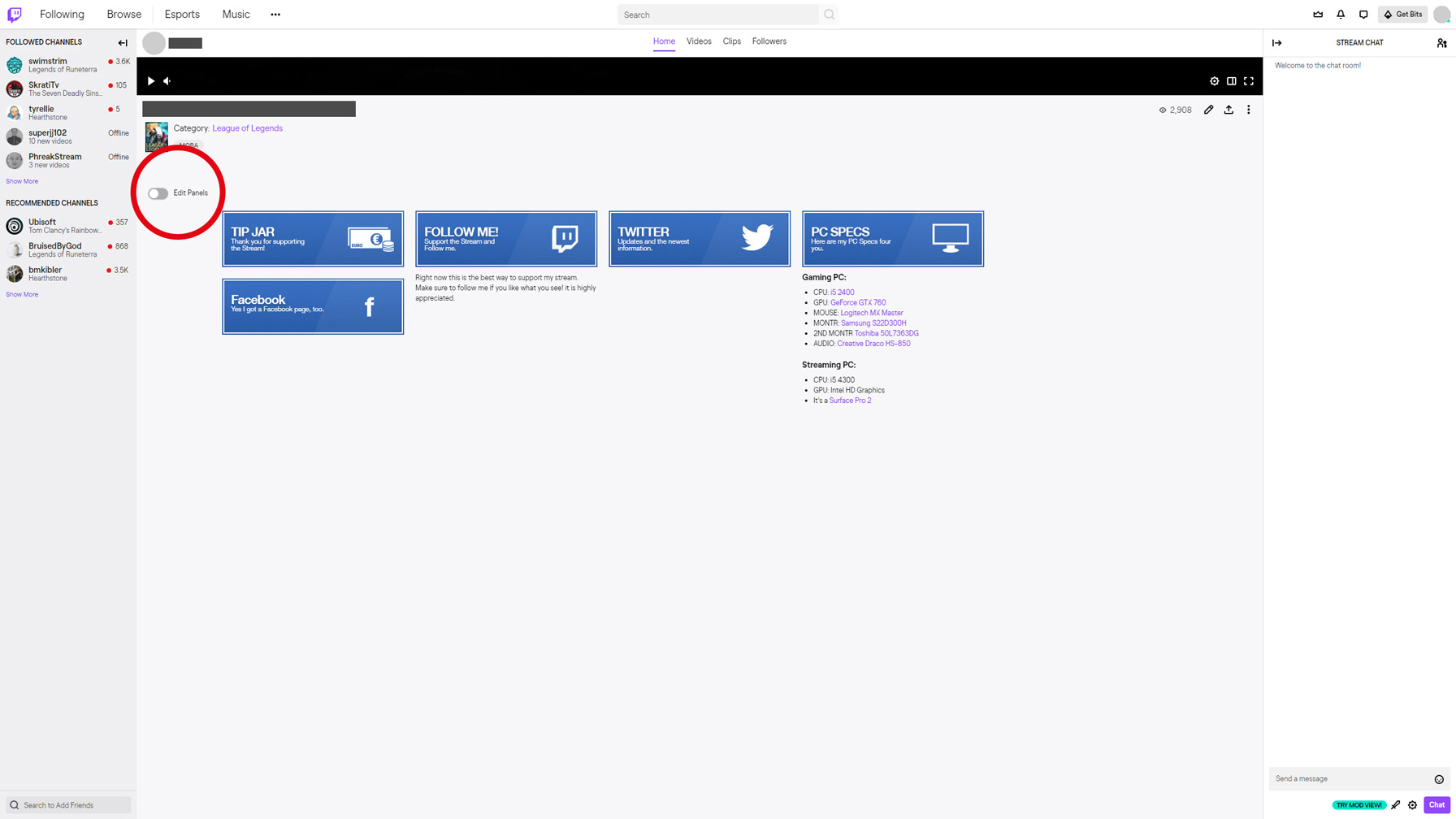 With one click onto 'edit panels' you'll open another view where you can add/delete or edit your Twitch Panel template. You also can install and uninstall very useful (some more then others) Twitch extensions. The Stream Panel need to have a width of 320px but can vary in height. Our Twitch Panels are of course made to fit this specifications and can therefore be used without any problems.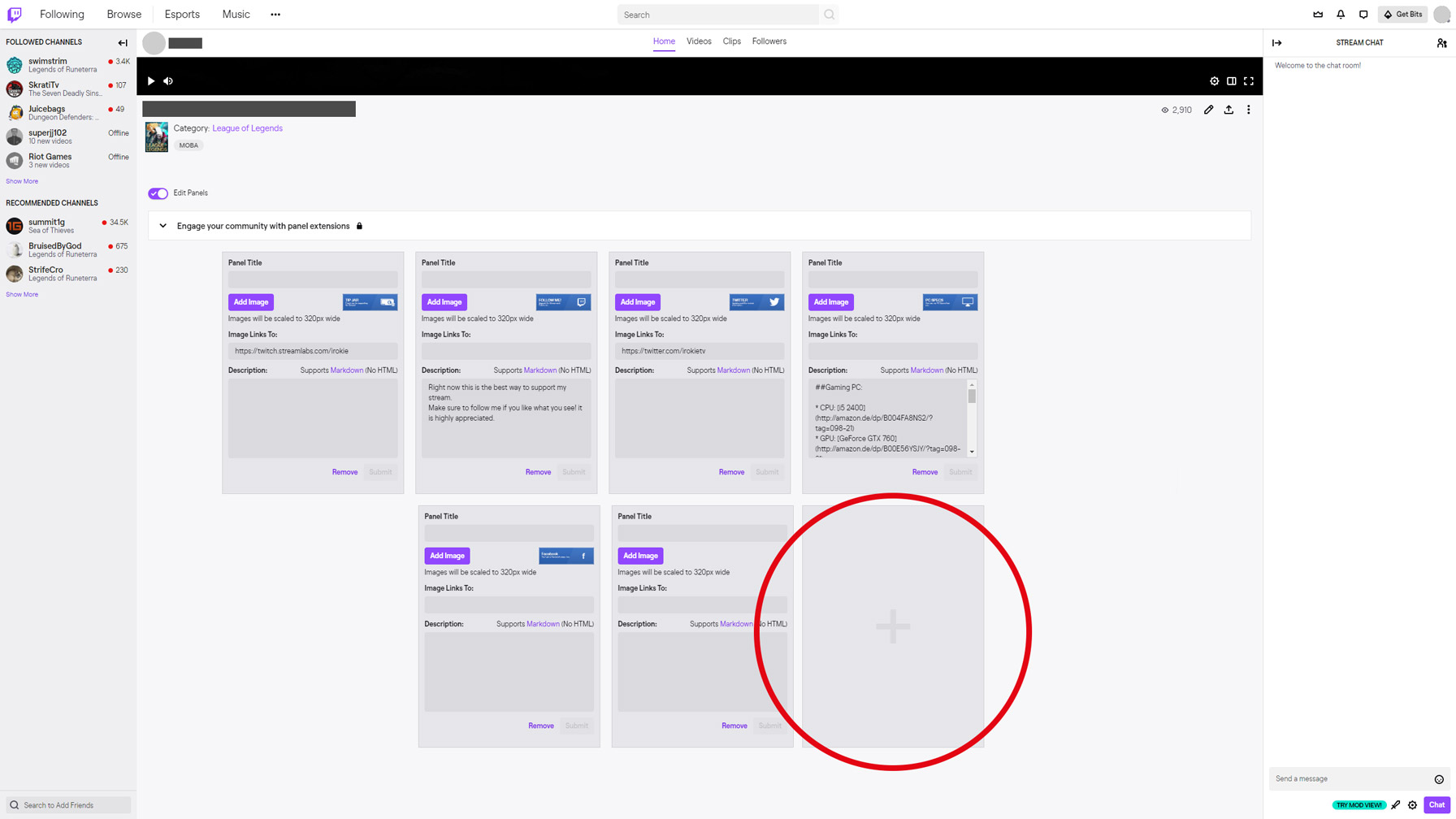 A click onto the grey area with the Plus-Icon is enough to open a new window where you will be asked if you want to add a Text or Image Panel, this is exactly what we want. Choose this option and you will be able to upload one of our Twitch Panels with the 'Add Image' button. (Pro hint: Do not use a Panel Title, instead leave the Panel shine for itself)
Additionally you can add links to external pages to your Twitch Panels. This feature enables you, to send your viewers directly onto for example your own website, your favorite donation service or your merchandise shop with just one click on one of your panels.
Become an Affiliate
Another useful tip from us: If you would like to earn some extra coin on the side, it is always worth to create an Amazon Affiliate Account, more infofmation here. (We currently work on an affiliate program as well and you'll soon be able to earn some money by referring people to our site.)
As an Amazon Affiliate you can for example link your hardware to amazon and earn a nice commission for every purchase your referred customer makes.
Here are some examples of our best sold Twitch Panels
The strong colors give our Hexagonal Streaming Panels a really strong attraction and make them an eye catcher for every twitch channel.
Like the Hexagonal Stream Panels, the Tempered Steel Stream Panels are in very bright and vibrant colors. They also include a dark blue which creates a stunning contrast.
Our Valorant Twitch Panels are a very good example that you can very much use Twitch Panels which are designed for one game or in the style of a certain game. This contributes tot he immersion oft he viewers and gives credibility.
How do I choose the right Twitch Panels?
You can decide which Twitch Panels are the right ones for your channel based on a few objective criteria, such as color, flair and appearance. When the rest of your stream, like your Stream Overlay, is mainly in blue, it often makes sense to use blue twitch panels if you are looking for something cute you should check out our cute twitch overlays.
Here is a small list of our favorite Stream Panel colors:
Red, green, purple, blue, orange
If it is all about the flair, every streamer needs to think about it himself and figure out how he wants to be seen by other people. Do you want to look modern and fresh or maybe cute and playful? Nearly everything is possible and the effect that good Twitch Panels have on the viewer should not be underestimated.
Free Twitch Panels on Twitch-Overlay.com
Because we want to make everyone happy with our Stream Panels, we even got some free Twitch Panels for you ready to upload. The free Twitch Panels are a variation of our 'Flat Stream Panels' which contain the small text 'powered by Twitch-Overlay.com'. Other free versions and colors are still being planned.
The free Flat Stream Panels can be downloaded here.
We hope we could spark your interest in new or maybe even your first Twitch Panels. To find the right panels for your channel is not easy and they will not always fit a 100% to your style or your needs but we are here for you and you can contact us at any time. When you need something changed or maybe get stuck on something, do not hesitate to write us an email.
Is there a Twitch Panel Maker?
At the moment we unfortunately don't have a twitch panel maker with which you can design your own panels, but we have that on the plan. Then you will be able to label and design your panels as you wish. We then only offer blanks you can choose from.
A Twitch Panel Maker is a good thing for everyone. For you, because you can easily create the panels you need and for us, because we have to do less design work to satisfy our customers. That saves time and effort. A panel maker is usually designed so that you first choose a blank panel. In the next step you choose which icon you want to use and which color you want to use for the icon and font. Then enter your desired text and save your panel. Voila, your own Twitch Panel is born.
How can I make Twitch Panels myself?
If you can't find a panel to your taste in our shop or if you just don't feel like spending any money on panels, you can of course use the free DIY variant. We almost always create our panels with Photoshop or Illustrator from Adobe. If this is too expensive for you, we recommend freeware image editing software such as Gimp. There are numerous DIY instructions and tutorials for both programs on the Internet, for example on YouTube; more on this in the next section.
Making your own Twitch panels is not that difficult if you have a little knowledge of design and access to the right software. We prefer to use Adobe's cloud products, including Photoshop and Illustrator and InDesign. InDesign, however, can be neglected in the actual creation process and is more suitable for the final setting of the images. Those who have already gained a little experience with Photoshop or Illustrator, of course, have significant advantages over those who are just starting out. If you want to learn more about Adobe's programs, I highly recommend the Phlearn channel. There is a whole section on Photoshop and how to get started with it.
Every beginning is difficult, but we can at least help you a little. The right size for your Twitch panels is 320 pixels wide and the height can be varied. If you e.g. want to put your schedule in a panel, it can also be 500px high. We are often content with a height of 100 to 150 pixels. Now all you need is a shape that fits your Twitch channel as closely as possible. A classic rectangle is often used for this, but you can also use a circle. The only thing that limits you is your imagination and the Twitch User Guidelines. If you are satisfied with the shape, the best thing to do is to look for a corner that you want to decorate with a colored highlight so that you have an eye-catcher for your followers. We recommend colors such as Blue, purple, green, or orange with a high saturation. Then all you need is your labeling and perhaps a small icon which, together with the labeling, has an explanatory effect for your Twitch panel. The key to a good stream panel is the interplay of colors, fonts and design. If you are satisfied with your creation, try it out directly in your channel!
The best Twitch Panels 2020 on Twitch-Overlay.com
We always go to great lengths with our products. Twitch panels in particular are very important to us. Your Twitch panels are the first thing your potential viewers will see when they visit your Twitch channel and you are offline. In our shop for stream overlays we of course have a large selection of Twitch panels. Stream panels are small images that you can embed under your Twitch channel to give your viewers an overview of your activities or your social media profiles such as Facebook, Twitter, Instagram or YouTube. It is always welcome if your Twitch panels also match your overlay. In order to find the right stream panels for you, we have made a small selection of our most beautiful and popular panels for you. Our employees and customers have voted and have come to a convincing result.
In 5th place of our premium Twitch Panels:
Our Pixel Styled Stream Panels landed in 5th place of our ranking. The pixel panels for Twitch were created very elaborate, pixel by pixel and offer your channel a unique, filigree design with lively colors and great contrasts. The Pixel Styled Twitch Panels are a bit older, but have not lost anything of their grandiose appearance. They fit every channel, no matter what it is about. Be it just chatting, game streams or IRL. The Pixel Panels are a very solid choice if you are looking for eye catchers for your Twitch channel.
In 4th place of our premium Twitch Panels:
The Flat Stream Panels from Twitch-Overlay.com are just really simple. Nicely structured, clear, to the point and available in 6 different colors. With the Flat Twitch Panels you are at the right address everywhere. No elaborate bells and whistles that distract from the essentials. The icons that are used on the panels are also chosen so that the viewer can see at first glance what it is about.
Third place in the best Twitch Panels 2020:
The Pharaoh Twitch Panels are a real highlight, not only for fans of Egyptian culture and hieroglyphics. Bright colors and outstanding textures make the Pharaoh Stream Panels a real eye-catcher for every gaming or IRL stream. All important social media channels such as Facebook, Twitter, Instagram and YouTube are included as panels as well as the typical panels for "Follow Me" and "Donation".
Number 2 on our list of the best Stream Panels:
The Tempered Steel Panels with their vibrant colors and strong contrast with e.g. Blue and red or blue and purple are a real feast for the eyes. With hard steel in mind, we wanted to create a spaceship-like vibe. The tempered steel panels look very futuristic and are in good hands with your gaming channel. Since the Tempered Steel Panels are still relatively new, you will also find a blank picture here that you can use to create your own plates if you want.
The winner of our category are by far:
the Hexagonal Stream Panels. The Hexagonal Twitch Panels have enjoyed great popularity since their release. Like almost all of our panels, the Hexagonal Panels are also available in different colors. The most popular variant is even shown here. It is the social media variant with different colors for Facebook, Twitter, Discrod, YouTube, Instagram, Donation and Follow. They get their name from the easily visible hexagons that stretch across their entire surface. Very few notice that a small image of the Milky Way in the background of the panels finalizes their overall impression.
Can I order Custom Stream Panels from you?
Of course, we also offer the service of designing individual Twitch panels to our customers, according to the client's ideas. If you are interested in customized panels, think about what you want. This includes, among other things, the shape of the panels, should they be round or rather angular? Maybe even triangular? There are practically no limits to the shape of the panels. At the same time, we need a good description of what you have in mind from you. If you are not quite as creative, we can certainly help you a little bit so that you are satisfied and proud of your own panels afterwards. Customizing the stream panels is not an easy undertaking and takes some time, so custom-made panels are not always cheap. If you want your own tailor-made stream panels, you shouldn't shy away from slightly higher costs. After all, our designers have to put a lot of work and time into the panels and the concept.
If you are interested, you can reach us at any time under our contact email.
Our stream panel conclusion
Regardless of whether you are using any premium Twitch panels or our free Twitch panels, the focus is always on the design and overall concept of your channel. If the stream panels fit your channel, then you can really use almost all of them. If your favorite color is green, then go for a green variant. If you don't like green, then please take the red. For an IRL stream, e.g. our Hexagonal Stream Panels are much more suitable than the Tempered Steel Panels, because the Hexagonals can be embedded in an existing profile much more smoothly than the hard corners and edges and the strong contrast of the Tempered Steel Panels. However, high-contrast or unusual stream panels definitely have their place in the gaming community. While the look and feel of your panels is paramount, don't forget that they are also meant to serve a purpose. The small pictures should give information and inform your viewer at what times you stream or how you can be contacted. You can even include small advertisements from sponsors or affiliate links to Amazon and Co.
Just see your Twitch panels as a figurehead or your mouthpiece to the outside world. Should you ever be offline, then they are the first thing your potential viewer will see. You can refer him to your social media profiles such as Facebook, Twitter, YouTube or Instagram or you can make all information immediately accessible to him. Twitch Panels are your friend and helper when it comes to details, information and schedules.