Top 5 Best Keyboard for Streaming
Every streamer knows they need a professional setup to have a successful stream. This means having the best hardware and software possible to ensure high-quality streaming that endears viewers.
A hardware component that is often overlooked is the keyboard. Many streamers don't realize how important a good keyboard is for their live streams. A keyboard is essential for streaming because it is the main way to interact with your live stream and chat with viewers.
Like any other piece of hardware, there are a ton of keyboards on the market, each with its features and price tags. So, how do you know which keyboard is the best for your live streaming and gaming needs?
To help you, we've put together a list of the top 5 best keyboards for live streaming. We've also included short pros and cons for each keyboard to help you make a more informed decision.
Best Keyboard for Streaming
Streamers, brace yourselves. The Corsair K100 RGB Mechanical Wired Gaming Keyboard isn't just a keyboard; it's a command center for your streaming universe. Let's break down why this keyboard is a must-have for any serious streamer.
The K100 comes with Corsair's proprietary OPX optical-mechanical switches. These switches offer lightning-fast actuation, ensuring that your keypresses register almost instantaneously. Like its predecessor, the K100 offers per-key RGB backlighting, but it takes it a step further with a 44-zone LightEdge across the top of the keyboard.
Long streaming sessions can be grueling, but the K100's plush palm rest offers unparalleled comfort. It's detachable, so you can use it as needed and store it away when not in use.
OPX Optical-Mechanical Switches: Lightning-fast actuation for quick reactions.
Per-Key RGB and LightEdge: Customizable lighting to amp up your stream's look.
iCUE Control Wheel: A mini stream deck for on-the-fly adjustments.
Detachable Plush Palm Rest: Comfort for those long streaming sessions.
PBT Double-Shot Keycaps: Durable and designed to last.
Pros:
Ultra-fast and responsive keypresses.
Next-level customizable lighting.
Convenient controls at your fingertips.
Unparalleled comfort for marathon sessions.
Built to last, even for hardcore streamers.
Cons:
Premium price for a premium keyboard.
The ROG Strix Scope II features a 96% layout, retaining all the essential function and number keys while offering a more compact design to free up your desk space. It comes with hot-swappable switches—pre-lubed NX Snow linear and ROG NX Storm clicky switches—that are designed for both stability and acoustic pleasure.
But what sets this keyboard apart is its tri-mode connection. You can connect using Bluetooth, 2.4 GHz with ROG SpeedNova wireless technology, or a wired USB, giving you the flexibility to choose the best setup for your stream. Plus, it has sound-dampening foam and switch-dampening pads to absorb noise, making your keystrokes quieter and more pleasant to the ear.
96% Layout: Compact design that retains all essential keys.
Hot-Swappable Switches: Pre-lubed NX Snow linear and ROG NX Storm clicky switches.
Sound-Dampening Foam: For quieter keystrokes.
Enhanced Typing Experience: Pre-lubed stabilizers and durable keycaps.
Intuitive Controls: Multi-function button and multi-wheel.
ROG Omni Receiver: Connect multiple devices wirelessly.
Ergonomic Design: Three tilt positions and a detachable wrist rest.
Pros:
Compact layout for a cleaner streaming setup.
Multiple connection options for flexibility.
Quieter, more pleasant keystrokes.
Pre-programmed hotkeys for easy streaming and recording.
Intuitive controls for seamless adjustments.
Versatile ROG Omni Receiver for multi-device connectivity.
Ergonomic design for long-lasting comfort during marathon streams.
Cons:
Pricey
To get the most out of the keyboard's features, you'll need to use ASUS's software.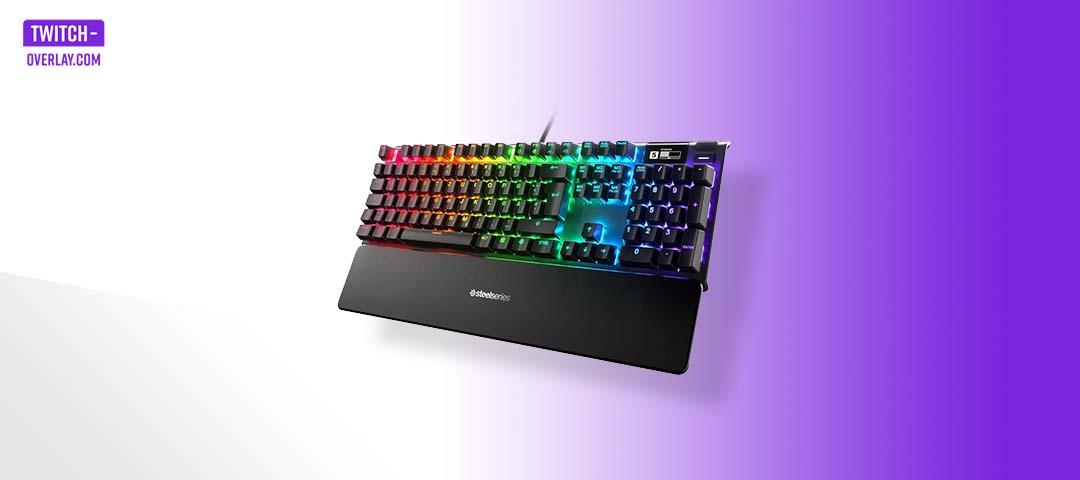 The Apex Pro features SteelSeries' patented OmniPoint adjustable mechanical switches. What does that mean for you? You can customize the actuation distance for each key, allowing for faster keypresses or a more traditional typing feel based on your preference.
But that's not all. The keyboard also comes with dynamic per-key RGB illumination. This isn't just for show; you can program various lighting effects and even sync them with your game, music, or Discord notifications.
For those marathon streaming sessions, the Apex Pro offers a premium magnetic wrist rest. It's all about giving you the comfort you need to keep your stream going for hours on end.
OmniPoint Adjustable Switches: Customizable actuation for personalized performance.
Dynamic Per-Key RGB: Tailor the lighting to fit your stream's aesthetic.
Premium Magnetic Wrist Rest: Ultimate comfort for long streaming sessions.
Aircraft-Grade Aluminum Frame: Built to last and withstand heavy use.
USB Passthrough Port: Convenient for connecting other peripherals.
Pros:
Highly customizable key actuation for versatile gameplay.
Dynamic RGB lighting that can be synced with your stream.
Premium wrist rest for marathon comfort.
Durable and robust frame for long-lasting use.
Handy USB passthrough for added connectivity.
Cons:
It's a premium product with a premium price tag, but it's an investment in your streaming future.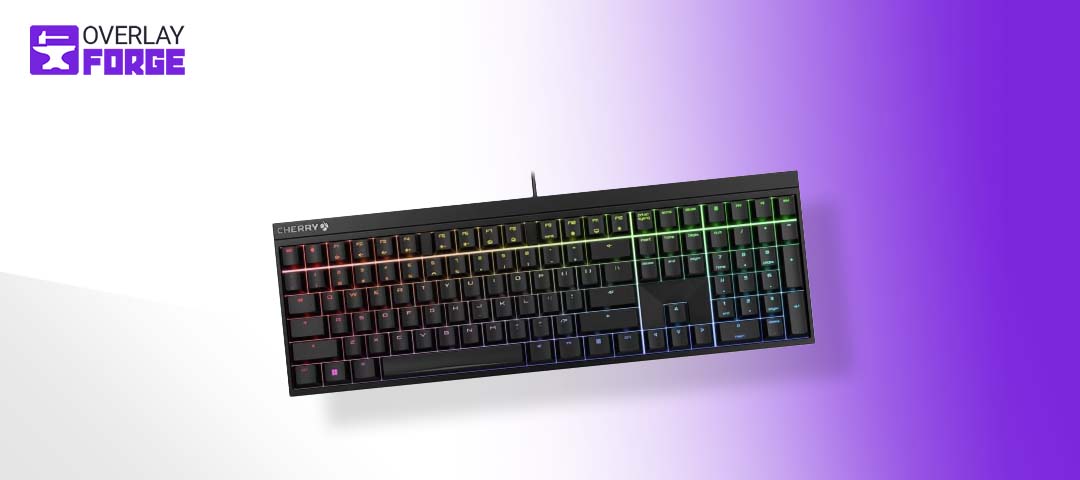 The Cherry MX 2.0S comes with original Cherry MX switches, made in Germany, and known for their Gold Crosspoint precision. These switches offer a variety of characteristics, from the smooth and direct MX Red to the clicky and noticeable MX Blue, allowing you to choose the one that best suits your style.
But what sets this keyboard apart is its focus on functionality. It offers full N-key rollover and anti-ghosting, ensuring that all your keypresses are read simultaneously without any false inputs. Plus, it comes with a useful WIN key lock to prevent accidental interruptions during your stream.
Original Cherry MX Switches: Gold Crosspoint precision switches made in Germany.
RGB Lighting: Over 16 million colors with integrated color games.
Abrasion-Resistant, Laser-Cut Keycaps: Uniform sense of touch across all keys.
Full N-Key Rollover & Anti-Ghosting: No false inputs during intense gaming.
Five Different MX Switching Characteristics: MX Black, MX Blue, MX Brown, MX Red, and MX Silent Red.
Pros:
High-quality, German-made switches for reliable performance.
Streamlined design focusing on core functionality.
Variety of switch options to suit different preferences.
Full N-key rollover and anti-ghosting for accurate input.
Durable, abrasion-resistant keycaps built to last.
Cons:
Lacks some of the extra features like dedicated macro keys or media controls.
The focus on functionality might not appeal to those who prefer more flashy, aesthetic features.
No included wrist rest, which could be a drawback for those who stream for extended periods.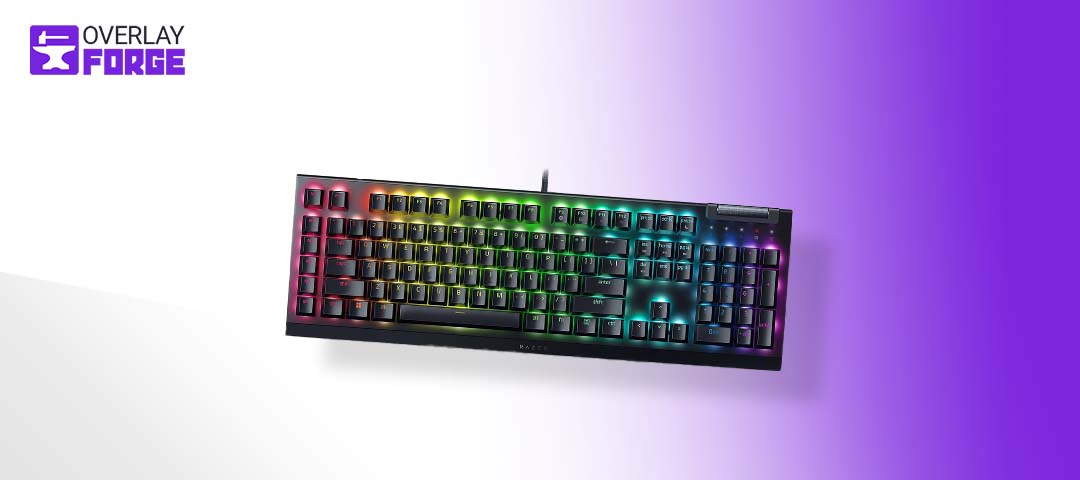 The BlackWidow V4 X comes with Razer's Green Mechanical Clicky Switches, featuring a 1.9mm actuation point and requiring just 50g of force. This means you get the perfect balance of pressure and response time, making every keystroke precise and satisfying.
But what really sets this keyboard apart is its 6 dedicated macro keys. These can be programmed to your preferred playstyle, expanding your arsenal of commands for easy access. Plus, it features a multi-function roller and secondary media keys, allowing you to control everything from brightness to volume with ultimate convenience.
Green Mechanical Clicky Switches: 1.9mm actuation point and 50g of force for tactile feedback.
6 Dedicated Macro Keys: Easy-access keys for customized commands.
Multi-Function Roller & Secondary Media Keys: Ultimate control over media and settings.
Chroma RGB Per-Key Lighting: Over 16.8 million colors and effects.
Doubleshot ABS Keycaps: Durable and resistant to wear.
Improved Keyboard Acoustics: Special foam and lubricated stabilizers for quieter typing.
Pros:
Tactile and responsive keys for an enhanced gaming and streaming experience.
Dedicated macro keys for customized, easy-access commands.
Convenient media controls for seamless streaming adjustments.
Stunning RGB lighting that can be customized to your stream's aesthetic.
Durable keycaps designed to withstand wear and tear.
Improved acoustics for a quieter, more satisfying typing experience.
Cons:
Premium pricing, but remember, you're investing in a top-tier streaming asset.
The clicky switches might be too loud for some users or environments.
Requires Razer Synapse software for full customization, which could be a con for those who prefer plug-and-play.
Conclusion for the best Keyboard
There is no "perfect" keyboard for live streaming; it depends on your personal preferences, needs, and budget. But we hope you consider the options on this list when choosing a keyboard for your live stream setup.
Rest assured that any keyboards on this list would be a great addition to your live streaming gear. And with the right keyboard, you can take your live stream set up (and your game) to the next level.