Our top webcam overlays for Twitch, YouTube and Facebook streams
Webcam overlays in our store are prepared for all eventualities. You can use them for IRL (or In Real Life) streams, for normal webcams or for webcams with cut out background (greenscreen) in the gaming stream overlay twitch area or as influencer. Many of our frame designs are animated and perfectly suited for special games like Fortnite, World of Warcraft, Counter-Strike, Battlefield, FIFA, Apex Legends, PUBG, CoD Warzone, League of Legends, Among Us, Valorant, GTA V, Rocket League or Hearthstone. The animated twitch webcam frames also adapt beautifully to other games and streaming platforms, so that you are never pushed into a corner.
Our Twitch Facecam Overlays can be purchased either separately or in a handy Stream Bundle together with other matching stream elements, made for streamers with amazing elements for twitch.
We want to make it as easy as possible for our customers to get a perfect stream design for every situation. No matter if you are an Influencer, IRL Streamer or hardcore gamer, we have the perfect frame for your webcam.
What is a webcam overlay?
A webcam overlay or facecam overlay, is a design to decorate the edge of your webcam. They fit your facecam optically into your stream and can direct the eyes of your viewers skillfully to your face or to the game action. No matter if Twitch, YouTube or Facebook, our Facecam Overlays are compatible with every online platform for streamers and can be easily integrated into your stream with OBS from Streamlabs or Xsplit. Cam overlays look best when they complement your alerts, stream overlay, twitch panels and banners or when they visually follow a similar theme. Our animated twitch webcam overlays are often available in Stream Packs or Stream Bundles that allows you to exchange every single stream element, top designed with a matching theme or logo. Streaming has never been so easy and beautiful.
Our cam overlays are animated in loving detail. We attach great importance to good looking animations for our fancy webcam frames.
How do I add my webcam overlay on OBS and Streamlabs?
The integration of cam overlays in OBS, StreamlabsOBS or Xsplit is very easy. Once you have purchased or completed an overlay, you can import it into all major streaming tools. It is recommended to save the overlay as WebM with alpha channel or if it is not animated, as PNG to have a transparent background. In OBS you can now insert the finished overlay as media source under "Sources".
With our stream packages there is always an. overlay file included. This file can be easily imported into StreamlabsOBS and automatically places all scenes and overlays for you, you do not have to make any settings yourself.
Can I make my own webcam overlay?
The question of how to make your own Twitch facecam overlay is probably asked by many readers. At Twitch-Overlay we design our webcam overlays with four programs:
Photoshop: Photoshop is from Adobe and is very suitable for image editing. Shadows and special graphic effects can be realized particularly well in Photoshop.
Illustrator: Illustrator is from Adobe and is best suited for working with shapes and vectors. Here, the focus is less on effects and more on scalability. This is very suitable for e.g. Stream Emote or Twitch Sub Badges.
After effects: The Non Plus Ultra when it comes to post processing. Here we animate our overlays and give them the final touch before we release them as a product.
Blender: A free alternative to the 3D industry standard Cinema 4D, 3ds Max and Maya. The best example for the use of Blender is our Neon Lights Facecam.
Since all these programs are industry standard in design, there are fortunately lots of tutorials and DIY instructions and videos available on YouTube or e-learning platforms like Udemy. If the programs from Adobe are not affordable for you, there are many free alternatives like Gimp or Inkscape. All you need is a little bit of creativity, a pinch of energy and you should be able to create a beautiful cam overlay yourself. Of course, this all sounds easier than it actually is. That is why we offer you to buy one of our many animated twitch webcam overlays in our store, then you can start right away.
Can I also order a custom animated facecam overlay from you?
If you want to have smaller personalizations you can of course order a custom animated webcam overlay, e.g. add or exchange a social icon, if it's not too much work we can also add your stream name to an existing stream bundle, add your logo or even the logo esports to an animated webcam overlay or stream alert. Larger custom designs or custom stream bundles are part of our product range but have to be discussed with us first by email or in the discord. However, custom designs for animated Cam Overlays are not for the small purse. Here we calculate our actual working time because we do not sell the overlays later on.
If you are planning to order custom facecam overlays, you should gather a few examples and inspirations so that you can explain/show us exactly what you want.
Are there also overlays or stream overlay twitch panels for Free?
Of course, not everyone can afford to invest money directly into their stream, that is why we have included an area in our store for you where overlay templates are free. If you need a free cam overlay, some of our webcam overlays, panels and other top overlays are available for free download in the Free area. So, everyone has the chance to get a professionally designed streaming head start, no matter if on YouTube, Facebook or Twitch stream.
The best animated twitch webcam overlays 2020
Here we have selected our best animated Twitch Facecams for 2020. By far the most popular animated facecam overlay this year is our 80s Synthwave Facecam frame.
The 80s Synthwave Bundle is generally one of our most popular products and is used in all areas of streaming the 80s awakens nostalgia in many people and retro has long since become fashionable again. Our 80s Bundle fits perfectly into this niche with its retro charm and screen glitches.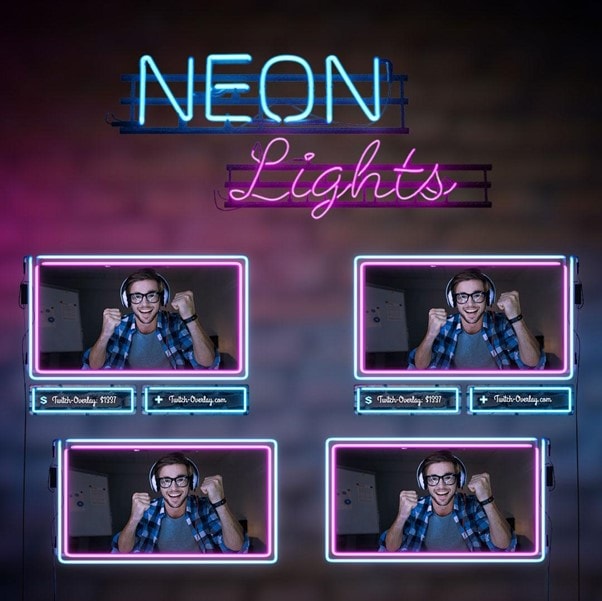 In second place and also very popular is our new neon light frame. It is also used by influencers for YouTube videos, Instagram, or other social media platforms. The neon lights frame was made exclusively with Blender and therefore belongs a very complex Facecam Overlay. The neon tubes are animated with a slight flicker and offer a perfect inmersion for the audience.
Almost as popular are our Nebula Galaxy webcam frames. Nebula Galaxy is an animated overlay theme and also available in a bundle. The popularity is certainly also due to the fact that the overlay is versatile and is not aimed exclusively at specific streams. So, if you are looking for a design for every occasion, the Nebula Galaxy theme is a great choice for twitch and YouTube gaming.
Goes to our Electric Nova Bundle. The cam overlay for the Electric Nova Theme is designed with great attention to detail, making it a perfect YouTube gaming stream overlay. Outstanding electric-looking animations make the bundle a highlight in our range.
The fifth place goes to Chrome City Overlays. Here we tried to animate real reflections as much as possible and actually managed to do that quite well. The Chrome City Bundle can be used in many ways, in the gaming area or just casually in the Just Chatting or IRL Stream.