Free Twitch overlays can take your streaming setup to the next level. They add a touch of personality and professionalism to your stream and serve practical purposes, such as displaying essential information for viewers.
An overlay may not seem necessary if you're a beginner streamer. However, as your channel grows and you start to attract more viewers, having an overlay can enhance the overall viewing experience for your audience.
Make sure to also visit our free twitch panels section. Here you'll find a variety of templates and designs to choose from, all of which are easy to use and customizable. If you are not sure about the sizes you need check our twitch size guide for more information!
Refrain from allowing funds to stop you from getting great overlays. As much as premium designs pack a punch, many top-quality free options also exist. We've done the groundwork for you and rounded up some of the best free Twitch overlays. If that is not enough for you, take a list at our 100+ Free Twitch Overlays list.
The Best Free Twitch Overlays for Streaming
If you're interested in an overlay that is both eye-catching and modern, the Quantum Overlay is perfect for you. With intricately sleek graphics, your stream will have a cutting-edge feel. Lasers, metal platings, and other futuristic elements give your channel a surreal look.
This stream overlay features all the components to take your stream from 0 to perfect. Your fans will love the free stream screens, stream alerts, webcam overlays, and screen transitions. Also, you can showcase your top or most recent supporters with the exclusive stream labels in-game overlay.
Quantum Overlay is compatible with Streamlabs and includes a .overlay file and a widget installation link, making setup and customization a breeze. Trust Twitch-Overlay.com to elevate your streaming experience with Quantum Overlay. Just follow the link and get it right now!
Unique Features
Sleek, surreal, and futuristic design to hype up your stream
Includes stream screens, alerts, webcam overlays, and transitions
Stream labels and in-game overlay to showcase top or recent supporters
Compatible with Streamlabs
Easily customizable with .overlay file and widget installation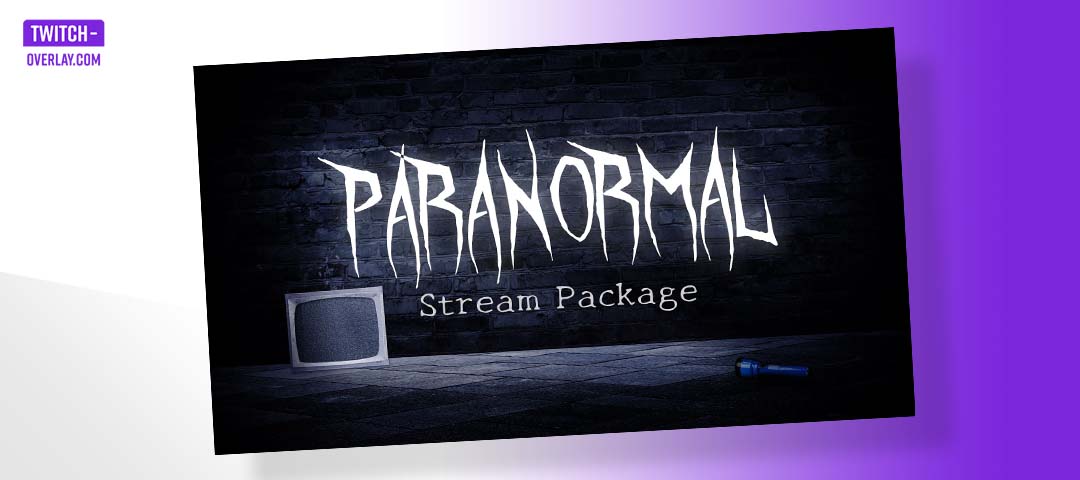 Depending on when you're reading this, Halloween might be coming up, or it might have just passed. Whatever the case, this overlay will make a perfect fit for Halloween. It is also a spooky and fun addition to your streaming setup, and you can use it anytime.
Choose this overlay if you want to add a touch of Halloween spirit to your stream or if you're simply a fan of all things horror. This overlay includes webcam overlays inspired by handheld recorders, a spooky countdown timer, mysterious fog, floating words, and even overlays.
You will also love that you can build custom scene layouts and modify your background with pre-built templates, so you can make it truly unique. Paranormal is compatible with Twitch, YouTube, and Facebook, and you can easily install it on OBS, Streamlabs, and StreamElements.
Unique Features
Handheld recorder-inspired webcam overlays
Countdown timer and event overlay
Customizable background and scene layouts
Fog and floating words for visual effect
Easy installation for OBS, Streamlabs, and StreamElements
Contains all source files
Access to free lifetime updates
Are you a fan of Call of Duty or another military shooter game? Then Camo is the perfect stream overlay for you. It features a modern, camouflage-inspired design with extra long and shorter panels for added customization.
Camo includes several stream alerts, two webcam overlays, and panels for recent followers, top donors, and recent subs. It is compatible with Twitch, YouTube, and Facebook Gaming. Get this free overlay and tweak the settings to your liking to make it fit your unique stream aesthetic.
Unique Features
Camo design with customizable color options
Two webcams in 4:3 and 16:9 options
A bunch of social icons for promotions
Stream alerts for new followers, donations, and subscriptions
A sandy desert background for empty stream scenes
Photoshop PSD for personalization to match your stream branding
The Atlas free overlay pack is an excellent option for streamers who want a sci-fi look for their overlay. It includes several customizable widgets and layouts, including profile panels, recent followers/subscribers alerts, social media icons, and donation notifications.
With individual .webm files for each item, you can customize your overlay however you please. The package includes files for Streamlabs OBS, OBS Studio, XSplit, and OBS Live, making it suitable for streaming on Twitch, YouTube, Facebook, and Mixer.
This overlay also supports animated webcam designs (16:9 and 4:3), HUD/Supporter Section Designs (with text), and HUD/Supporter Section Designs (no text). You can also customize the color scheme to fit your stream perfectly.
Unique Features
Sci-fi-inspired design with customizable colors
Animated webcam overlays in 16:9 and 4:3 options
HUDS & supporter section designs with customizable text
Supports OBS Studio, Streamlabs OBS, XSplit, and OBS Live
Access to free lifetime updates
Zerging offers a wide variety of free Twitch overlays that are perfect for any streamer's needs. The Cyan overlay, in particular, is best for streamers who want to deliver a calm and relaxed aesthetic on their stream.
This overlay combines light blue accents to create a modern and sleek design that will enhance the overall look of your stream. It also includes a webcam overlay and alerts for followers, subscribers, and donations.
Zerging is flexible and allows users to blend various aspects of overlays and panels. Zerging also provides complete packs with many components you can use in your stream, depending on your needs.
Zerging's overlays are compatible with various streaming software, including OBS Studio, Streamlabs, and XSplit. Upgrade your stream today with the Cyan overlay from Zerging.
Unique Features
Cool, light blue accents
Flexibility to blend different aspects of overlays and panels
Compatible with various streaming software
Complete packs are available for streamers' needs.
The holiday season is a great time to add festive cheer to your stream, and the Flatpack Christmas overlay pack should do. This overlay includes a webcam and other overlay graphics, as well as nice transitions and alerts for new followers, subscribers, and donations.
Beyond capturing the holiday spirit, this overlay will appeal to you if you don't mind a simple, minimalist, and yet classy design. So, take a break from the flashy and over-the-top stream overlays this beautiful overlay pack a try. Ho, ho, ho!
Unique Features
Minimalist and classy holiday-themed design
Includes webcam and other overlay graphics
Transitions and alerts for new followers, subscribers, and donations
Perfect for streamers who prefer a minimalist design
Kudos offers a variety of professionally designed free overlay packs, and the Nexus pack is one of their best. According to them, this free overlay gets the most downloads, so it's a popular choice among streamers.
This pack is perfect if you want to project a scientific feel, but its calming animation and serene color scheme make it versatile enough to use in any situation. It doesn't matter what you are streaming; the Nexus overlay will give your stream a modern and professional touch.
With Twitch, YouTube, Facebook Gaming, and other streaming software support, this product is perfect for gamers who want to improve their live gaming experience with custom overlays and stinger transitions.
Unique Features
Serene, science-inspired design
Webcam and header overlay
Twitch, YouTube, and Facebook Gaming support
Perfect for any scientific or nerdy streams
Multiple stream screens and animated stinger animation
Quick installs on Streamlabs, OBS Studio, and StreamElements
Storm Call is an overlay made especially for Fortnite – the popular battle royale game. It features muted colors, stylistic flair, and Burbank Big Condensed Bold fonts to display your stream information.
This overlay is game-specific, which is excellent if you're planning on streaming Fortnite regularly. It includes four panels, two webcam size variations, and everything you need for your stream design.
You can use this overlay on OBS, Streamlabs & xSplit software, which is compatible with Twitch and YouTube.
Unique Features
The header is split into two sections
Two webcam variations (4:3 and 16:9 webcams)
Four panels and four stream alerts
Loads of social media icons
Rage 2 is an action-packed game, and this overlay embodies that energy. The game inspires this overlay pack, and the creator, Gael Level, does a great job capturing its aesthetic.
This overlay includes animated displays of a "starting soon" screen, "be right back" screen, and "stream ending" screens. You can customize the color to match your branding and add panels for your social media and schedule.
This stream overlay is free on Gumroad and includes everything you need for a high-energy stream. Also, you will see "Name a fair price" on the sale page, which means you can pay whatever you want for the overlay.
Unique Features
Animated displays inspired by the Rage 2 game
Customizable color scheme
Panels for social media and schedule
Available for free on Gumroad with an option to pay what you want
Perfect for high-energy streamers or Rage 2 fans
Upgrade Your Twitch Stream Today with a free Twitch Overlay
No matter what game or presentation you are streaming, there is a professional and unique overlay for you. Don't settle for a plain and boring stream; take advantage of these free overlays and upgrade your Twitch stream today. Your viewers will love the unique touch, and you'll have a stream that stands out from the rest. If you're looking to upgrade your Twitch stream and make it more professional, a free Twitch overlay is a great place to start. With so many choices available, you're sure to find an overlay that fits your style and personality. And best of all, they're completely free! So why not take advantage of these free resources? Give your stream a boost today!