A starting screen, also known as a stream start screen or a "Starting Soon" screen, is essential for any streamer. As the name implies, a starting soon screen is a stream screen that can be displayed when your stream is about to start. It's the perfect tool to engage your audience and build anticipation for your upcoming streams. On your starting screen, you can show off your logo and colors, social links, or a countdown timer and let your watchers know when your stream is about to begin. In the subsequent sections, we'll clarify why you need an appealing starting screen, where to get it, and how to use it in OBS Studio. Plus, we'll guide you on how you can create an animated starting screen that will blow your viewers' minds. So take advantage of this essential part of streaming!
The Importance of a Visually Appealing Starting Screen
Listen up, streamers. If you want to make an impact, you gotta have a starting soon screen that looks the part. A visually appealing stream start screen can get your viewers hyped and set you apart from the rest of the pack.
Think about it – when your viewers tune in and see a colorful, animated starting screen with your logo and social media links, they will be pumped up and ready for what's to come. A pro-looking starting soon screen builds excitement and helps viewers prepare for your stream. And remember animation, folks. A moving starting screen adds an extra level of engagement that keeps viewers glued to their screens. It's all about creating a vibe that makes your viewers want to stick around. So, if you're serious about streaming, don't skimp on your starting soon screen. Instead, take your time to find or, if you feel like creating, make something that looks great and reflects your brand. Trust me, your viewers will thank you for it.
How to Get a Starting Soon Screen for Twitch?
If you ain't got the skills to make your own starting soon screen, no sweat! We got you covered. You can hit up the Stream Screen section of our shop and find the perfect starting soon screen that suits your style and vibe. But suppose you're feeling bold and ready to tackle the design game. Then, you can use fancy-schmancy graphic design software like Adobe Photoshop, Canva, or Placeit to create your masterpiece. Now, these ain't no walk in the park, but with a bit of patience and a lotta coffee, you'll be whipping up starting screens that'll blow your viewers' minds.
Ah, almost forgot about one crucial detail! When creating your stream starting soon screen, make sure to consider the dimensions of your screen. The ideal size for a starting soon screen can vary depending on your preferences, but the recommended size is 1920×1080 pixels. This size ensures that your starting soon screen looks great on most devices and provides enough space for you to add text, images, and other design elements. Of course, you can experiment with different sizes. Just be sure to test your starting soon screen on different devices to confirm it looks great across the board.
Animated Starting Soon Screens
Wait, there is more. If you want to spice up your starting soon screen, an animated one might do the trick. This ain't no ordinary screen – it's got all the bells and whistles to get your viewers pumped and engaged. Now, I ain't gonna lie – making an animated starting soon screen is no walk in the park. It takes some real skills with animation software like Adobe After Effects, Premiere Pro, or Blender to make one that really pops. That's why I'm letting you in on a little secret: you can buy an animated starting soon screen from our shop. Trust me, it's worth it. But take the plunge if you're feeling adventurous, and create a masterpiece yourself. You can use animation software or pre-made templates to get started. Just make sure you're up for the challenge 'cause it takes some serious patience and skill to get it right.
Here are a few tips to make your animated starting soon screen shine. First, use clear and concise messaging to let your viewers know what's coming up. Then, incorporate relevant images or graphics to really drive your point home. And if you're feeling stuck, check out places like Placeit or Pinterest for inspiration. Trust me, they are a gold mine. There you have it, go ahead and create an animated starting soon screen that'll make your viewers sit up and take notice. If you don't like doing all the work, look at some of our stream screens. I am sure we have some that fit your style.
How to add a starting screen in OBS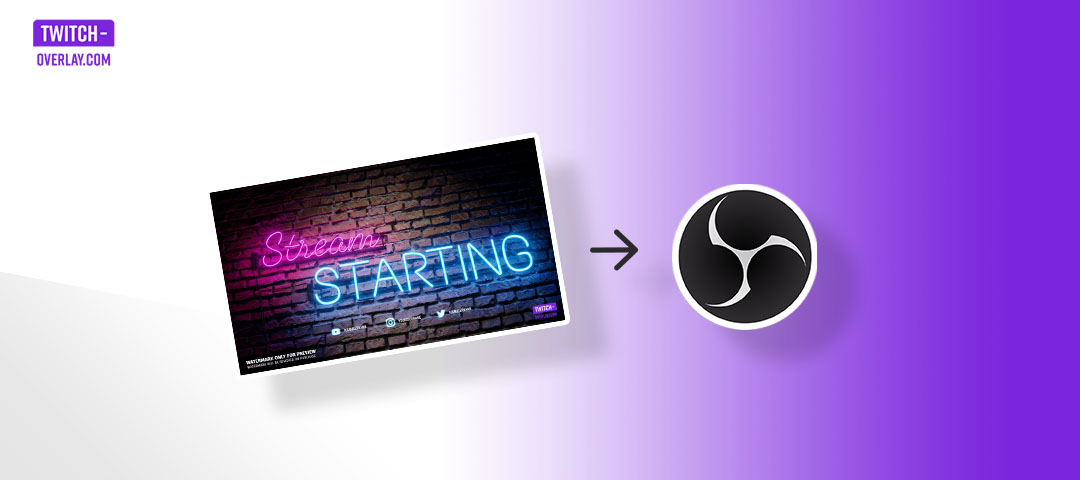 And now, if you ask yourself how to add a starting soon screen in OBS Studio, we have your back with this handy-dandy step-by-step guide.
Open OBS Studio. 

Create a Starting Soon Scene.

Click the "+" button on the bottom left in the Scenes box.

Name the new Scene Starting Soon and click ok.

Create a new source. 

select the "+" icon in the "Sources" box.

If you want to use an animated Starting Screen, select "Media Source." Else select "Image."

Check "Create New" if not selected and name your source (e.g., "Starting Soon Screen"), and click on Create.

In the new popup, click "Browse" to locate your starting soon screen file and select it.

Resize your image or video to fit the screen by dragging the corners of the red bounding box.

If you want to add a countdown timer or other components, choose "Text" or "Browser" from the "Sources" box and follow the prompts to add your desired content.
And that's it! With these simple steps, you can confidently add your Starting Soon Screen to OBS Studio and use it in all your streams for all your viewers to see. Now get out there and start streaming like a pro!
5 Starting Soon Screens That Pack a Punch
Listen up, my dear friends! We at Twitch-Overlay have Starting Soon screens that will turn your boring streams into a captivating experience. Each screen is carefully crafted to make your viewers sit up and take notice. So let's take a closer look.
This Starting Soon screen is a visual treat for your viewers. With its bright neon lights that grab attention, it evokes the modern vibe of a comedy club. It's visually stunning and perfect for all you showmen out there who want to make a statement before you start your stream.
You'll love this Starting Soon screen if you're a retro gaming fan. It's a throwback to the glorious 80s with its pink and blue Tron-style design. It's like a time machine that brings you back to the days of neon lights and pixelated video games. Prepare to blast through the past and make your stream a retro masterpiece.
This Starting Soon screen is futuristic and electric, with its dark blue design, sparks, and lightning. It's perfect for those who want to create an atmosphere of anticipation and energy. Your viewers will be on the brink of excitement, waiting for you to start the stream.
Sometimes you need a little relaxation before the storm of your stream. This Starting Soon screen shows a beautiful ocean sunset with a seagull flying overhead. It's a peaceful and calming image that will set the tone for your stream. Let your viewers drift away to the ocean while they wait for you to start.
This Starting Soon screen is for all you modern streamers out there. It's mostly dark, with sick RGB LED-style highlights that change colors like a rainbow. It's perfect for those who want to create a moody and modern atmosphere before the show starts. So get ready to defy expectations with this starting screen for twitch, OBS, and streamlabs.
And here's the best part, my friend – these 5 starting soon screens are just the tip of the iceberg. We have a wide range of starting soon screens in our collection that cater to different tastes, styles, and genres. So, if you're not entirely convinced by these options, head to our screens section and browse our extensive collection. With so many fantastic choices at your fingertips, you're sure to find a starting soon screen that fits your stream's unique vibe and captures the attention of your viewers. So, don't wait any longer. Explore our full range of OBS Overlays today!
Are you a fan of the popular game Valorant? If so, you'll love our Valorant-inspired stream start screen. It features a heavy high-tech gate with a visually stunning blue plasma ring. Get your viewers pumped and ready for some serious gaming action.
Are you looking for something with an edgy look? Then the Amber Starting Screen is the one for you. A primarily black design with yellow highlights resembling amber, this screen has an edgy geometrical look that will grab your viewers' attention and excite them for what's to come.
Well, we've reached the end of this guide on how to nail your starting screen for your live stream. Don't be cheap when it comes to this crucial element of your stream. Take the time to create something that speaks to your brand and looks damn good. Your viewers will be grateful for it. The key to success is representing your unique style and personality on your starting screen. Hook your audience with striking visuals, concise messaging, and relevant graphics. And above all, have fun with it! Streaming is about expressing your passion and bonding with your audience. Take your time with the process, whether buying one or using Adobe After Effects, Blender, or pre-made templates from Placeit or Pinterest. Put your heart and soul into creating a starting soon screen that dazzles your viewers and sets you apart. With some creativity and a truckload of coffee, you'll be on your best way to streaming stardom.  Of course, you can always look at our stream overlay templates if you want the complete package. Now, go forth and happy streaming!