Retro gaming holds a unique charm, transporting gamers back to reliving the golden days of pixelated adventures and nostalgic tunes. Today, we will introduce you to one of the best handheld gaming emulator devices on the market, and one of Anbernic's handheld gems: the RG353V. A mix of the past's simplicity and today's tech advancements, this device promises a gaming experience like no other. This review will delve deep into its features, assessing if it truly lives up to the buzz.
Design and Display
In a world where design often dictates a device's success, the Anbernic RG353V stands out with its nod to nostalgia. At the forefront is its 3.5-inch IPS screen, boasting a resolution of 640×480 pixels. This may sound modest by today's standards. Still, it's tailor-made for the retro games the device champions, ensuring crisp visuals and vivid colors reminiscent of classic gaming consoles.
What truly captivates is its design, bearing a striking resemblance to the beloved Game Boy Color. This touch of retro flair and modern design elements make the RG353V a visual treat.
Its screen isn't just about aesthetics; it's built for durability. Armored with tempered glass and featuring double protection, it's ready to handle the occasional drops and bumps. An added anti-scratch surface ensures it remains pristine even with heavy use.
Rounding off its design appeal, the RG353V is available in a palette of color variants: Transparent Black, Gray, White, and Transparent Purple. Each variant, whether a bold statement or a subtle shade, adds a touch of personality, making this device more than just a console—it reflects its user.
When diving into retro gaming, performance is paramount, and the Anbernic RG353V ensures that every gameplay session is seamless and immersive. Here's a closer look at the muscle behind the machine.
At the heart of this gaming console is the RK3566 Quad-Core 64-bit Cortex-A55 CPU, clocked at a speedy 1.8GHz. Such a robust processor ensures that even the most demanding retro games run without a hitch. Complementing the CPU is a generous 2GB LPDDR4 RAM, ensuring multitasking and swift game loads.
Storage won't be an issue, with 32GB of high-speed eMMC 5.1 onboard and an additional 16GB provided via a TF card, that's 48GB in total. This means ample space for your favorite classics and room for new discoveries.
On the connectivity front, the RG353V shines with dual-band 2.4/5G WIFI and Bluetooth 4.2, ensuring a stable connection whether downloading games or pairing up with accessories.
One of the most crucial aspects of a handheld gaming device is its battery life. The RG353V boasts a 3200mAh Li-polymer battery, offering up to 6 hours of continuous gameplay. Whether on a long journey or an extended gaming session, the RG353V ensures you're powered throughout.
For a quick snapshot, here's a breakdown of its key specifications:
| Specification | Details |
| --- | --- |
| Processor (CPU) | RK3566 Quad-Core 64-bit Cortex-A55 (up to 1.8GHz) |
| RAM | LPDDR4 2GB |
| Storage | 32GB eMMC 5.1 + 16GB TF (Total 48GB) |
| SD Card | up to 512GB |
| Connectivity | 2.4/5G WIFI 802.11a/b/g/n/ac, Bluetooth 4.2 |
| Operating Systems | Android 11, Linux |
| Screen | 3.5-inch IPS (640×480 resolution) |
| Battery | Li-polymer 3200 mAh (up to 6 hours of gameplay) |
| Additional Features | HDMI Output, Wireless Gamepad Support, Vibrating Motor |
The RG353V is truly a testament to what's possible when modern tech meets retro gaming passion, offering a blend of performance, storage, and longevity that's hard to match.
Software and Gaming Experience
Right out of the box, the RG353V sets the stage. Users will find a 64GB SD Card pre-installed with 4,300+ games. And if you need more than that, there's always room for more. The device supports game downloads in various formats, letting you constantly refresh and grow your collection.
Double the OS, Double the Fun
The RG353V stands out with its dual Android 11 and Linux operating system. This combo promises a diverse gaming experience. Dive into the latest Android games, relive the Linux classics, or use one of the countless emulators spanning DC, SS, NDS, N64, FBA, NEOGEO, GBC, GB, SFC, FC, MD, SMS, GG, MSX, PCE, WSC, N-Gage, etc. with over 20 game formats.Switching between the two? It's a cakewalk. When the console is off, a simple combination of the power button and the 'F' key does the trick. And for those who have a preferred playground, you can set a default system.
Big Screen Adventures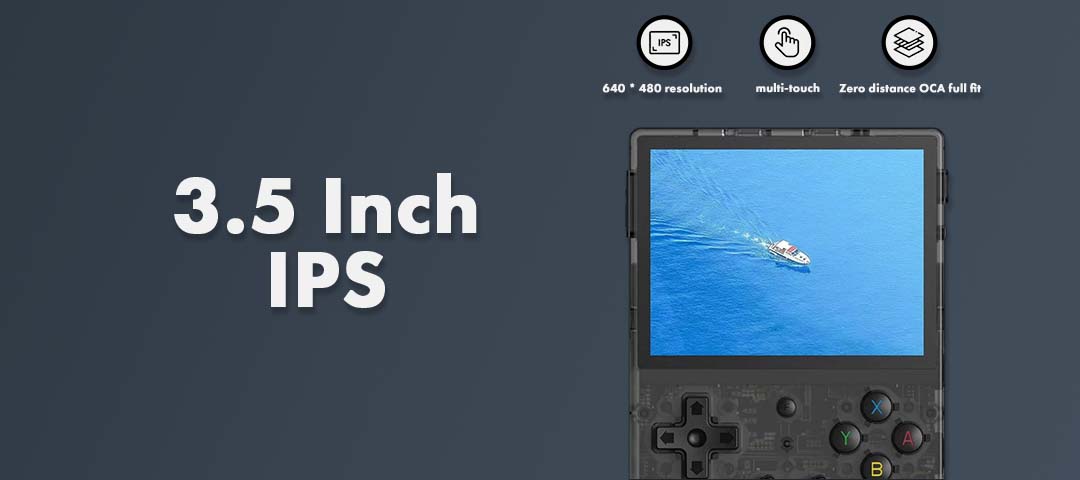 Dreaming of a grander display? The RG353V has got you covered. Equipped with HDMI and wireless projection, this device lets gamers elevate their experience to bigger screens. Be it a nostalgic trip with a classic game on your home theater or an Android game session on a monitor, the RG353V ensures clarity and vibrancy.
Moonlight Streaming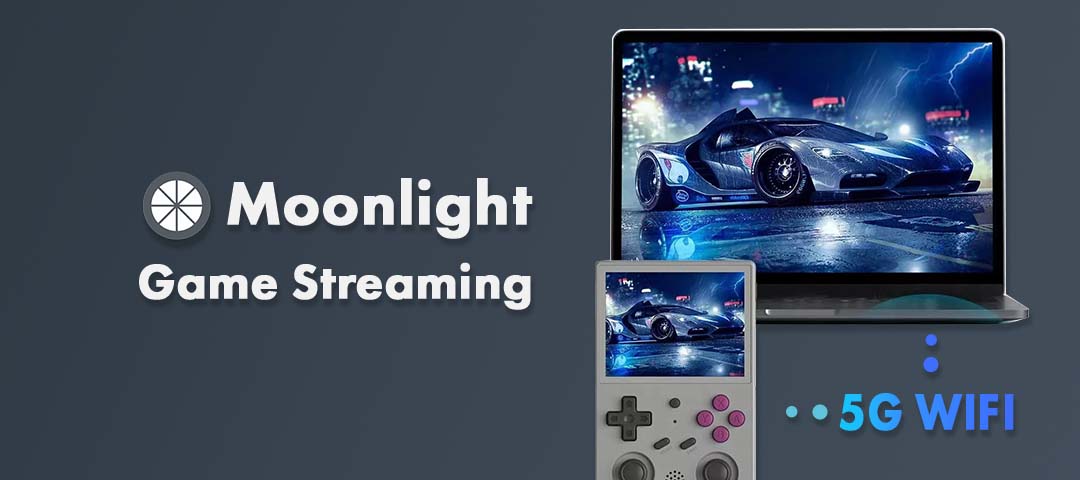 This is where the RG353V truly shines. With Moonlight streaming, you can stream your PC games directly to this handheld if you're a PC gamer with an NVIDIA graphics card. Seamless gaming, whether you're on the couch or in bed.
Beyond Gaming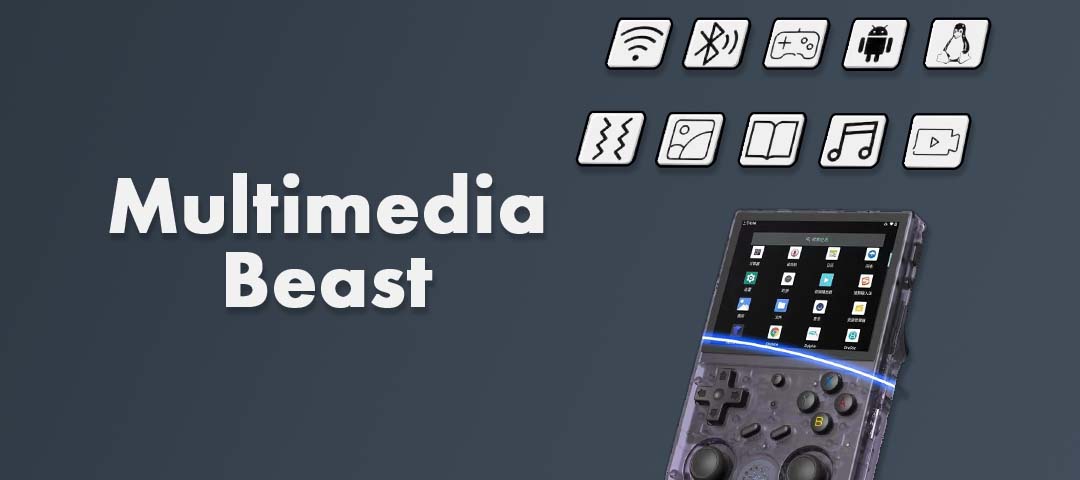 The RG353V isn't just a gaming device; it's an entertainment hub. With its Android capabilities, it's your ticket to stream music, catch up on Netflix, Disney Plus, or Amazon Prime shows, shop your heart out online, or stay socially connected. This is the modern age, and the RG353V is here for all of it.
Tailored for Travel
Compact and lightweight, the RG353V is designed for those on the move. It's geared to be your constant entertainment companion for daily commutes or long trips.
Pros and Cons
Every device has strengths and areas for improvement, and the Anbernic RG353V is no exception. Let's weigh its advantages against its potential drawbacks.
Pros:
Extensive Game Library: With a 64GB SD Card pre-loaded with 4,452 games, you're set for countless hours of gameplay right out of the box.
Dual Operating System: The RG353V runs on both Android 11 and Linux, giving users access to a vast array of both modern and retro games.
Versatile Connectivity: Featuring both HDMI and wireless projection output, the device caters to gamers looking for both handheld and big-screen experiences.
Moonlight Streaming: For those with NVIDIA graphics, the RG353V allows smooth streaming of PC games, expanding its gaming repertoire.
Multi-Functional: Beyond gaming, the Android system lets users stream music, watch videos, shop, and socialize.
Portability: Compact and lightweight, it's designed for gaming on the go, be it daily commutes or long trips.
Impressive Battery Life: A 3200mAh battery ensures up to 6 hours of continuous gameplay, and it supports fast charging via a USB Type-C cable.
Expandable Storage: Apart from the onboard storage, there's support for downloading games in various formats and the ability to expand storage further.
Cons:
Learning Curve: The dual operating system, while powerful, might require some getting used to for those unfamiliar with Linux.
Rear Button Placement: Some users have found the placement of the rear buttons a bit awkward, which could affect gameplay comfort.
Limited Streaming: Moonlight streaming is restricted to users with NVIDIA graphics.
The Anbernic RG353 Series
Anbernic's RG353 series has been a game-changer in handheld retro gaming, with each model catering to gamers' specific needs and preferences.
| Feature | RG353P | RG353M | RG353PS |
| --- | --- | --- | --- |
| Design | Standard | Metal casing | Standard |
| Software | Dual Boot (Linux and Android) | Dual Boot (Linux and Android) | Linux |
| Display | 3.5-inch | 3.5-inch | 3.5-inch |
| Battery | 6 hours | 6 hours | 6 hours |
| Unique Selling Point | Dual Boot System | High Performance with Metal Design | Linux Specialist |
Often considered the foundation of the RG353 line-up, the RG353P set the stage for what was to come. Much like its successor, the RG353V, it boasts a compact design and commendable hardware specifications. However, its unique selling point is the dual boot system, giving gamers the flexibility of hopping between Linux and Android operating systems. This flexibility ensures a diverse gaming experience, from classic retro titles to the latest Android games.
Stepping up the design game, the RG353M sports a stylish metal casing, blending durability with aesthetics. This model isn't just about the looks; its performance is tailored for the hardcore gamer. With the power to run demanding titles, ranging from the classics to PS2 and Dreamcast games, the RG353M promises an immersive gaming experience. The device's horizontal layout ensures that even the most prolonged gaming sessions remain comfortable.
The standout feature of the RG353PS is its dedicated single Linux system, providing a seamless and optimized gaming environment. This model comes packed with a whopping 128GB SD Card pre-installed with 4,519 games, offering a vast playground for gamers right from the get-go. The device also emphasizes its ergonomic design, ensuring comfortable gaming, and its internal structure is inspired by mobile phone designs, optimizing compactness and user experience.
Each model of the RG353 series stands out in its own right, ensuring that Anbernic has something special for every retro gaming enthusiast.
RG353V vs RG353VS: A Comparative Look
Two prominent models in Anbernic's RG353 series are the RG353V and its smaller counterpart, the RG353VS. While both devices are rooted in delivering a top-notch retro gaming experience, there are distinct differences that cater to varied user preferences. Here's a side-by-side comparison to illuminate these differences and help gamers make an informed choice.
Operating Systems
RG353V: This device offers a dual operating system's flexibility, featuring Android 11 and Linux. This diverse setup allows users to explore various Android games and retro emulator titles.
RG353VS: The RG353VS is laser-focused on the Linux operating system. It's tailored for those who prefer a streamlined and pure retro gaming experience.
Hardware and Storage
RG353V: Sporting 2GB of LPDDR4 RAM and a combined storage of 48GB, the RG353V promises smooth gameplay and substantial room for game collections.
RG353VS: The smaller sibling has 1GB of RAM and only retains 16GB of storage.
Design Variants
RG353V: Offers a broader spectrum of color choices, with options like Transparent Black, Gray, White, and Transparent Purple.
RG353VS: The color choices for the RG353VS are limited, available only in Transparent Black and Gray.
To sum it up, the decision between the RG353V and RG353VS hinges on personal preferences. Those seeking a versatile gaming environment might gravitate towards the RG353V, while those who want a dedicated retro gaming platform might find the RG353VS more appealing.
Wrapping it up
Handheld gaming has seen many contenders, but the Anbernic RG353V stands out as a unique blend of past and present. For the retro gaming enthusiast, it offers a trip down memory lane, bringing back the classics in their pixelated glory. For the modern gamer, its dual operating system and extensive features ensure that it's not just a nod to nostalgia but a device equipped for today's gaming demands.
Its impressive library of pre-installed games, expandable storage, dual operating system, and multifunction capabilities make it a versatile entertainment hub. While it does have a few quirks, like the rear button placement, the pros vastly outweigh the cons.
Whether you're considering it as a gift, a travel companion, or a personal entertainment device, the RG353V promises hours of immersive gameplay and entertainment. And if you're still on the fence, remember that sometimes, the best gaming experiences aren't about the latest graphics or groundbreaking titles but about reliving cherished moments from the past.
For those eager to dive into retro gaming with a modern twist, the Anbernic RG353V is the perfect pick. If the Anbernic RG353V is not for you, check out our article covering the best gaming handheld emulators in 2023.
FAQs
Q: What system is supported by Anbernic RG353V?
A: The Anbernic RG353V supports a dual operating system, both Android 11 and Linux. Additionally the RG353V supports various emulators: DC, SS, NDS, N64, FBA, NEOGEO, GBC, GB, SFC, FC, MD, SMS, GG, MSX, PCE, WSC, N-Gage, etc. mit über 20 Spieleformaten.
Q: What is the difference between RG353V and RG353VS?
A: The primary difference is that the RG353V supports a dual operating system (Android 11 and Linux), while the RG353VS is a single Linux system device.
Q: Which is better: RG353V or RG35XX?
A: While both have their merits, the RG353V stands out due to its dual operating system, offering a broader range of gaming options. The choice depends on individual preferences and gaming needs.
Q: What is the build quality of RG353V?
A: The RG353V boasts a robust build with a design reminiscent of the classic Game Boy Color, complemented by tempered glass protection against scratches.
Q: Is Anbernic legal?
A: Anbernic, as a brand, produces legal hardware. However, the pre-installed games on some of their devices may not be licensed, which can raise legal concerns. It's worth noting that installing ROMs of games you legally own is typically permissible. Always ensure you adhere to local copyright laws and only use ROMs for games you've purchased.