In the dynamic world of live streaming, where the audience consumes content in real-time, and first impressions matter immensely, the quality of your broadcast can set you apart. While many streamers invest heavily in high-end cameras, microphones, and graphics, there's one often overlooked element that can make or break the visual appeal of a stream: lighting. Proper lighting enhances the clarity and quality of the video and elevates the overall ambiance, creating a more engaging experience for viewers. Whether you're a seasoned streamer or just starting, understanding the significance of good lighting and investing in the right equipment can be a game-changer. In this guide, we'll delve into the world of stream lights, exploring their importance and introducing some of the best options available on Amazon to illuminate your streaming journey. Check out our lighting setup guide if you want a guide on setting up your lights.
All Products In One Look
These are all the products featured in this review for easy comparison:
Best Overall
Most Versatile
Product
RALENO Videoleuchte Dash Cam
Ring Light with Desk Mount
Best Overall
Product
RALENO Videoleuchte Dash Cam
Most Versatile
Product
Ring Light with Desk Mount
Why good Lighting is Important for Streamers
Lighting in the streaming world is more than just illuminating a room. It's about enhancing the quality, setting the mood, and ensuring a seamless connection with your audience. Here's a quick rundown of why every streamer should prioritize lighting:
Professional Appearance: Elevate the quality of your stream, eliminating shadows and presenting yourself in the best light.
Viewer Engagement: Ensure visual clarity, making your reactions and expressions more immersive and engaging for your audience.
Camera Quality Enhancement: Maximize your camera's potential, reducing graininess and enhancing color accuracy.
Mood Setting: Tailor the ambiance of your stream, from warm and cozy vibes to bright and energetic atmospheres.
Reducing Eye Strain: Ensure comfort during long streaming sessions, preventing eye fatigue and distractions.
Now, let's delve deeper into each of these points:
Professional Appearance:
The digital age has democratized content creation. With so many streamers vying for attention, the nuances matter. Proper lighting is one such nuance. It's not just about visibility; it's about presentation. Just as a chef takes care in plating a dish, a streamer should be meticulous about how they appear on screen. Proper lighting can accentuate features, eliminate distracting shadows, and give a studio-quality feel to even the most modest setups. It signals viewers that you're committed, professional, and worth their time.
Viewer Engagement:
Streaming is an interactive medium. The bond between streamer and viewer is sacred. Your bond strengthens when viewers can see every nuance of your expression, every twinkle in your eye, and every animated gesture you make. Good lighting ensures these moments are preserved in darkness and washed out in overexposure. It keeps viewers engaged, making them more likely to stick around, interact, and return for future streams.
Camera Quality Enhancement:
A high-end camera with poor lighting can produce mediocre results, while a mid-range camera with excellent lighting can produce outstanding visuals. Lighting fills in the gaps, reducing noise, enhancing color fidelity, and ensuring every pixel captured counts. It's the secret sauce that can elevate your stream's visual quality, regardless of your camera's price tag.
Mood Setting:
Lighting is a storyteller. With the twist of a dial or the click of a button, you can change the entire vibe of your stream. Want to create a cozy, intimate setting for a late-night chat? Opt for warm, soft lighting. Are you hosting a high-energy gaming session? Bright, cool lighting can set the tone. Modern stream lights offer a range of color temperatures and brightness levels, giving you the creative freedom to set the perfect mood for any scenario.
Reducing Eye Strain:
Your well-being is paramount. Streaming often involves long hours in front of screens. Inadequate lighting can lead to eye strain, fatigue, and headaches. Proper lighting, positioned correctly, can mitigate these issues. It ensures you're not squinting or straining, allowing you to focus on your content and community. Over time, this can significantly affect your streaming endurance and overall health.
The Best Key Lighting for Streamers
Key lights play a pivotal role in the realm of professional lighting setups. As the primary light source, a key light is responsible for defining the overall look and mood of a scene or subject. Positioned at an angle, it illuminates the subject, highlighting its form and dimensions while casting shadows to add depth and contrast. For streamers and content creators, a key light ensures that they remain the focal point of their broadcast, providing clarity, detail, and a touch of cinematic quality to their streams.
The Elgato Key Light Air is not just another lighting solution; it's a testament to the fusion of form and function. Elgato designed the light with streamers and content creators in mind. It offers a blend of powerful illumination and user-centric features. With its Wi-Fi-enabled controls, users can effortlessly switch settings from various devices. Its adjustable color temperature, ranging from the warm hues of sunset amber to the crisp tones of arctic blue, ensures versatility for any streaming mood. Moreover, the edge-lit LED architecture, combined with multi-layer diffusion technology, guarantees a soft, retina-friendly glow, making it ideal for extended use. Whether you're a seasoned streamer or just starting, the Elgato Key Light Air promises to elevate your setup, ensuring your viewers see you in the best light possible.
Key Features:
Technical Specs:

 Wi-Fi enabled for easy control via various platforms (Mac/Windows/iPhone/Android).

Design/Build:

 Features 80 premium OSRAM LEDs for consistent brightness while maintaining a cool temperature.

Usability:

 Adjustable color temperature ranging from 2900 – 7000 K.

Additional Feature:

 Unique edge-lit LED architecture with multi-layer diffusion ensures indirect, retina-friendly illumination.
Pros:
1400 Lumens provides powerful illumination yet can be dimmed for subtle ambiance.

Indirect illumination ensures comfort during prolonged use.

Easy control with App.

Integrated into Elgato Eco-System.
Cons:
Requires a stable Wi-Fi connection for optimal functionality.
Stepping into the streaming world on a budget doesn't mean compromising quality. The EMART 60 offers a blend of affordability and performance tailored for streamers like you. With its powerful LEDs and adjustable features, this kit ensures consistent and flattering illumination, setting the stage for an engaging broadcast. Whether you're streaming gameplay, hosting a chat session, or conducting an interview, the EMART 60 provides the versatility to adapt to your content, making every stream visually captivating.
Key Features:
Technical Specs:

 60 LEDs pump out a robust 1400 Lumen output, calibrated at a streaming-friendly 5500K color temperature.

Design/Build:

 The package boasts 2 LED lights, each complemented by an adjustable stand to fit seamlessly into your setup.

Usability:

 Achieve the ideal angle for every stream with a 180° adjustable feature.

Additional Feature:

 Diversify your streaming ambiance using the included color gel filters (red, blue, orange, white).
Pros:
A 90+ CRI rating ensures your broadcasts showcase you in vibrant and lifelike colors.
The AC/DC adapter amplifies brightness and guarantees a consistent, uninterrupted light source.
Cons:
Fixed-size, only for use on the desk.
Lacks red channel. You may seem pale.
The RALENO® RGB Streaming Key Light isn't confined to the boundaries of your streaming room. Its powerful built-in 4000mAh battery is primed for portability, allowing you to take your streams outdoors or on the go. The light is designed with side-emitting technology and a 4-layer diffuser, casting a soft and flattering glow for indoor and outdoor use. Switch between the HSI RGB mode for atmospheric gaming sessions or the CCT mode for crisp video conferences. And with the convenience of its magnetic remote, on-the-fly adjustments are effortless. The RALENO® is a versatile companion for streamers, crafted with attention to detail to deliver flexibility and quality.
Key Features:
Soft Lighting:

 Side-emitting technology paired with a 4-layer diffuser ensures a gentle, non-glare light that's easy on your eyes.

Versatile Modes:

 This light adapts to your streaming needs from the CCT mode for clear video conferences to the HSI RGB mode for atmospheric game broadcasts. Plus, six special effects add flair to your video creations.

Customizable Settings:

 Adjust brightness (1%-100%), color temperature (2500K-8500K), color gamut (0-360°), and saturation (1%-100%) to find your perfect hue.

Convenient Control:

 A 2.4G magnetic remote lets you tweak settings on the fly and can control multiple lights simultaneously.

Power Options:

 With a built-in 4000mAh battery offering up to 85 minutes of runtime and a type-C charger for continuous use.

Sturdy Stand:

 A weighted base, telescopic pole, 360° spherical head, and 1/4 screw-in cold shoe ensure stability and flexibility in positioning.
Pros:
Comprehensive customization options cater to every streaming scenario.
Dual power supply mode ensures uninterrupted broadcasts.
RGB to match your mood.
Cons:
The plethora of settings might have a slight learning curve for beginners.
The Best Ring Lights for Streamers, Vloggers and Influencers
Ring lights have become a staple in content creation, particularly for vloggers, beauty influencers, and streamers. Characterized by their circular design, ring lights cast an even and flattering light on the subject, reducing shadows and emphasizing details. This unique lighting pattern creates a soft halo effect in the eyes, adding depth and dimension to the face. Whether you are hosting a live stream, gaming, recording a makeup tutorial, or conducting a video interview, you can guarantee that you are showcased most appealingly by utilizing a ring light.
Elevate your streaming setup with the Razer Ring Light, a professional-grade lighting solution designed with streamers in mind. This 12″ ring light, packed with 192 LEDs, ensures you're always showcased in the best possible light, mimicking the luminous intensity found in high-end studios. Whether you're streaming in the early morning or late at night, its customizable spectrum and adjustable brightness cater to every ambiance, and with its flexible mounting options and included tripod stand, setting up has never been easier.
Key Features:
Professional Lighting:

 A 12″ diameter with 192 LEDs, combined with a white diffuser, guarantees bright, even, and professional-grade lighting.

Customizable Spectrum:

 Easily switch between warm white (3000K), balanced white (4500K), or cool white (6500K) to match your streaming needs.

Tailored Brightness:

 Adjust the illumination from 10-100% to get the perfect lighting, regardless of your environment.

Versatile Mounting:

 Comes with two swappable attachments—a ball head mount for PC streaming with webcams and a phone holder for mobile streaming.

Ready-to-Use Tripod:

 There is no need for additional purchases; the Razer Ring Light includes a compact tripod stand for immediate setup.
Pros:
Comprehensive lighting options ensure you're always presented in the best light.
Versatile mounting options cater to both PC and mobile streamers.
Cons:
The Razer Ring Light is on the expensive side.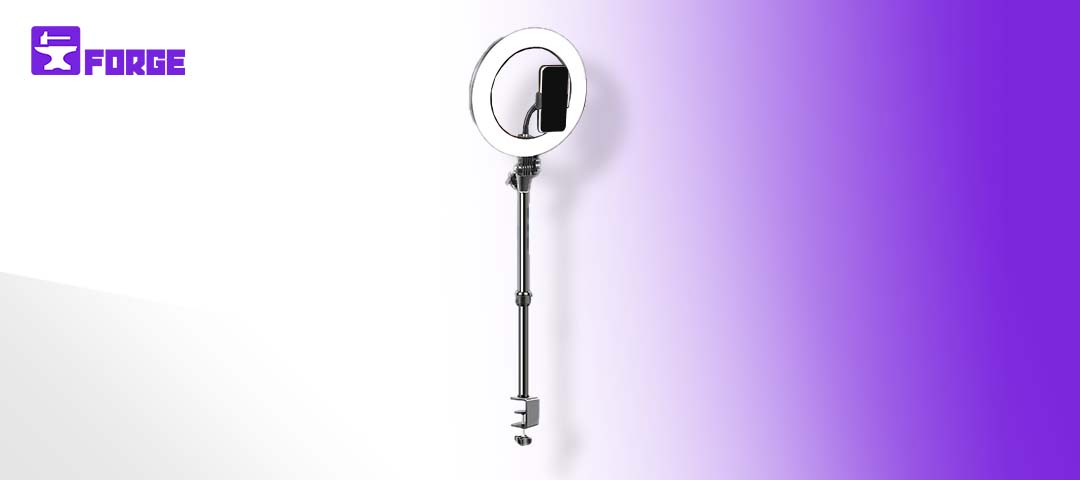 The Evershop Ring Light offers a blend of affordability and functionality for streamers and content creators on a budget. The light is designed to clip onto your desk; this 12" light ensures you're always in the spotlight, even in limited-space setups. Whether streaming on Twitch, conducting a Zoom meeting, or capturing the perfect TikTok video, this ring light delivers consistent, eye-friendly illumination. Its adjustable clamp stand and versatile lighting options make it a must-have for those seeking a compact yet powerful lighting solution.
Key Features:
Wide Application: Tailored for live streaming, video conferencing, and content creation, ensuring you always have the ideal lighting for any platform or purpose.
Space-Saving Clamp Stand: Adjustable to fit various desktops (up to 2.1 inches thick), this stand extends from 13.5″ to 22.7″, ensuring your light isn't obscured by monitors.
Large & Eye-Friendly: A 12" diameter with 200 full-spectrum LED beads provides a broad, soft light, reducing flicker and shadows and protecting your eyes from fatigue.
Customizable Lighting: Choose three light colors (warm, natural, white) and ten brightness levels to find your perfect setting. USB-powered for convenience and compatibility.
Comprehensive Package: Along with the ring light, you get an adjustable clamp stand, phone holder, 1/4″ screws ball head, user manual, and a 1-year warranty.
Pros:
Budget-friendly without compromising on quality and functionality.
Clamp stand design is perfect for desks with limited space.
Cons:
It might not suit those looking for a traditional tripod setup.
Choosing the Right Light for Your Stream
Whether you're a seasoned pro or just starting, understanding the nuances of different lighting tools is crucial. If you are unsure what the best choice for you is, this section will briefly compare Ring Lights and Key Lights and describe their best use cases. Let's illuminate the differences and help you make an informed decision for your setup.
Design:
Ring Light: Circular, providing even, diffused light. Known for the halo effect in the eyes.
Key Light: Broad, primary light source. Sets mood by highlighting the subject's form and dimension.
Applications:
Ring Light: Perfect for close-ups, vlogging, and selfies. Emphasizes facial features without overexposing.
Key Light: Versatile; foundational for streaming, video production, and photography.
Portability:
Ring Light: Typically compact; great for desk setups or mobile content creation.
Key Light: Ranges from portable to larger studio setups.
Conclusion: Shining a Spotlight on Your Streaming Success
In the ever-evolving world of streaming, lighting is more than just a backdrop—it's a protagonist. The Elgato Key Light Air is a testament to professional-grade illumination, ensuring every frame captures your best side. Meanwhile, the Razer Ring Light offers a blend of style and substance, and the Evershop Ring Light brings quality to those mindful of their budget. Not to be outdone, the RALENO® RGB Streaming Key Light introduces a palette of customizable options, allowing for a tailored streaming ambiance.
But diving into specs only scratches the surface. The actual value of a lighting solution lies in its ability to enhance your content, resonate with your audience, and reflect your unique brand. Whether engaged in a high-octane gaming session, sharing beauty tips, or discussing the latest trends, lighting can amplify your message and set the mood.
As you chart your course in the streaming universe, remember: your chosen lighting isn't just equipment—it's a co-star. Let it illuminate your path, accentuate your content, and guide you to unparalleled streaming achievements.